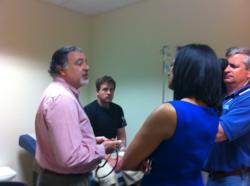 "Prevention is the key, "according to Dr. Braccia, "Ideally you want to prevent ticks from getting on your skin."
Harleysville, PA (PRWEB) May 09, 2013
May 1, 2013 Brittney Shipp meteorologist of NBC TV 10 Philadelphia interviewed Dr. Dominick Braccia D.O., Medical Director of Haverford Wellness Center in Harleysville, PA today about the tick population, how they are affected by the weather and how to avoid tick bites and any associated diseases.
During a brief question and answer period, Dr. Braccia reminded viewers that, "The warmer weather, tends to bring out the ticks, and of course people who want to be outside, keep in mind that ticks like wooded areas, fields, fallen trees, tall grass and warmer areas."
Dr. Braccia also mentioned that, "In the spring, the ticks are in their "baby" or "nymph" mode stage which does not make them more infectious, it just makes them harder to see." Many outdoor travelers may not even notice an attached tick.
"The tick must be attached for at least 12 hours to transmit Lyme disease, notes Dr. Braccia, a Lyme Literate physician, "But for other tick-borne illnesses (such as Rocky Mountain Spotted Fever) the embedded time could be less. If at all possible it is best to collect the tick and take it to someone who has the ability to get the tick tested for Lyme and other tick-borne illnesses."
How to protect against Lyme disease
"Prevention is the key", according to Dr. Braccia, "Ideally you want to prevent ticks from getting on your skin". Dr. Braccia recommends Sawyer's spray which contains an insect repellent with Permethrin to prevent tick bites. It can be purchased at outdoor equipment stores that carry camping or hunting gear. Permethrin kills ticks on contact. One application to pants, socks, and shoes typically stays effective through several washings. Permethrin should not be applied directly to skin. For more information, visit tick bite prevention tips.
Haverford Wellness Center, under the direction of Dr. Domenic Braccia is dedicated to the accurate diagnosis and reasonable treatment of Lyme disease and other tick borne diseases. Dr. Braccia and the staff of the Haverford Wellness Center are fully equipped and capable of managing all aspects of Lyme disease and the other tick borne diseases from prevention and management of early disease to the most complex diagnostic and therapeutic cases. These cases include treatment failures, and late stage Lyme disease patients who have been ill for many years. More Lyme prevention tips as well as Lyme treatment information can be found at http://www.haverfordwellness.com or call 215-256-0050. You can also view a video about Haverford Wellness Center.