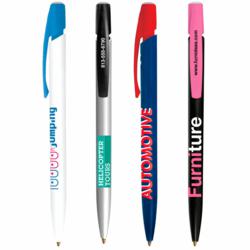 Miami, FL (PRWEB) May 10, 2013
BIC Promo Pens, a leading source of all advertising pens and custom logo pens in Canada and the United States, has worked with thousands of companies across the country to help them increase brand awareness and customer loyalty with a range of BIC personalized pens. This is particularly effective at large trade shows for any number of different industries. At the 2013 National Car Show in Detroit, vendors like BMW, Mercedes & Lexus were giving away BIC Promotional Pens with their logos on them to everyone who came to their booth.
The introduction of several different BIC writing instruments from BIC Promo Pens are well-suited for companies and organizations that attend trade shows and other similar events. There are typically many different exhibitors at these trade shows, so any tactic that can help give a company a leg up and help them get noticed is a huge advantage for that company. And fast custom logo pens are a cost-effective and efficient method for getting the company's brand in front of the public.
Giving away the advertising pens that have been imprinted with the company's logo and contact information helps to improve customer interaction and brand presence for a number of reasons. The custom pens are oftentimes placed at the front of the booth's display table, for example. By being handed out to passers-by, this helps to draw in potential customers toward the booth and, thus, this opens up a window of opportunity to talk to these potential contacts and possibly do business with them. All it takes is that initial handshake and hello to get the conversation started and a complimentary business pen can be a great draw for this purpose.
When the potential customer or business contact leaves the trade show, he or she literally holds the advertiser's brand in his or her hands. This takeaway gift ensures that the company's name and branding are more easily remembered in the days that follow the event.
BIC Promo Pens is proud to offer a broad line of affordable BIC Promo Pens, including the hugely popular BIC Clic Stic and BIC Wide Body pens. Pricing starts as low as 23 cents per unit with no setup fee, no imprint fee, and no charge ground shipping. Select designs are also available for complimentary 48-hour rush service.
For more information on how a fully customized BIC advertising pens can help extend and strengthen a brand's presence in the marketplace, call 1-888-844-7367 or order online at bicpromopens.com.
About BIC Promo Pens:
BIC Promo Pens has been providing BIC promotional pens for over 35 years and has helped over 300,000 customers increase brand awareness and customer loyalty through their high quality products. BIC Promo Pens offers the lowest prices on all its BIC promotional pens and pencils, including free UPS ground shipping on all BIC pens orders.