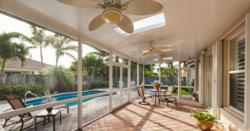 Sometimes it's a knowledge of what ought to be done, not just what the code says has to be done, that influences design.
Miami, FL (PRWEB) May 02, 2013
Homeowners in Homestead, Fla., one of the fastest-growing markets in 2012 for screen enclosures and sunrooms from Venetian Builders, Inc., continued in the first quarter of this year to purchase outdoor living enhancements from the Miami company at a record pace.
Christopher Noe, president of Venetian Builders, said one reason for the increase is Venetian's retail sales display in the Homestead Home Depot. The sunroom and screen enclosure installer has sales displays in 41 Home Depots in South Florida.
"Without question our Home Depot displays have increased interest in our services," Noe said. "Our overall residential sales are up 150 percent over last year's at this point, and 2012 itself represented an 85 percent sales increase over 2011. Our leads have increased substantially in any area served by a Home Depot after we installed a sales display in the store."
The displays show consumers 8 running feet of Venetian Builders design options and materials. Homestead sunroom or screen enclosure customers who contact Venetian through Home Depot or directly see choices in even more detail right at the curb during a no-cost at-home consultation.
"We custom-design everything we build," Noe said. "Choice is what makes a sunroom or screen enclosure fit the homeowner's needs, home, neighborhood and budget. The best Homestead screen enclosure isn't necessarily the same as the ideal West Palm Beach screened enclosure or the perfect Weston patio room."
The company recently began work on a 360-square-foot sunroom with acrylic windows and screening in Homestead, but it also has built Homestead aluminum sunroom additions less than half that size.
"We build in a wide range of styles and costs," Noe explained.
Venetian builds not just to meet the tough Florida Building Code, but also to surpass it, Noe said, including its tighter regulations for areas along lakes, ponds, canals, golf courses, parks and coasts.
"Sometimes it's a knowledge of what ought to be done, not just what the code says has to be done, that influences design," Noe said.
In Homestead, for instance, No-Seeums dictate a screen mesh fine enough to keep the tiny pests out but preserve views. "Our designers take into account every detail, no matter how small, and No-Seeums are about as small as any detail gets," Noe said. "While a luxury in some areas, a screen pool enclosure is an absolute necessity in Homestead."
Venetian Builders serves homeowners in Jupiter, Miami, Fort Lauderdale, Wellington, Davie, Miramar, Hialeah and all other South Florida communities.
For more information call 866-596-2427.