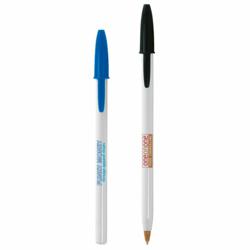 New York, NY (PRWEB) May 20, 2013
BIC Promo Pens announced today that it is offering extra special pricing on its full collection of fully customizable promotional pens, just in time for the spring and summer months when outdoor fundraisers and other community events are the most popular. BIC Promo Pens, a leading distributor of a range of imprinted pens, logo pens, trade show giveaway pens, custom pencils and colorful promotional pens with the trusted BIC name, has worked with thousands of companies, businesses and organizations to increase their brand presence in the marketplace and to increase customer loyalty.
Churches and other religious organizations typically have relatively tight budgets, so it is very understandable that they would be extra careful with where they spend their funds. That is why BIC Promo Pens is so proud to offer a wide variety of advertising pens at even lower prices than ever before. This way, churches can extend their personalized messages to their congregations and to the general public at large in the most cost-effective manner possible.
The full range of custom imprinted pens are excellent for promoting the church at community events and can be handed out during community outreach and during fundraisers. The pens can also be particularly effective in commemorating special community events and church events by placing the name of the church or organization, as well as the name of the event and the date, right on the pen itself.
Imprinting is always included in the stated price of all BIC pens on the BIC Promo Pens website. There is also no setup fee and no charge for shipping to any address in the United States or Canada. Some designs even come with complimentary 48-hour rush service for customers who need their logo pens in a hurry. Prices start as low as 23 cents per unit for designs like the popular BIC Round Stic.
The pens can be freely given away at events to commemorate and celebrate the occasion, but they can also be placed in the pews as a free gift to parishioners and church members. This can help to ensure that the message of the church is further advanced.
For more information on how a fully customized BIC advertising pens can help extend and strengthen a church's presence in the community, call 1-888-844-7367 or order online at bicpromopens.com.
About BIC Promo Pens:
BIC Promo Pens has been providing BIC promotional pens for over 35 years and has helped over 300,000 customers increase brand awareness and customer loyalty through their high quality products. BIC Promo Pens offers the lowest prices on all its BIC promotional pens and pencils, including free UPS ground shipping on all BIC pens orders.