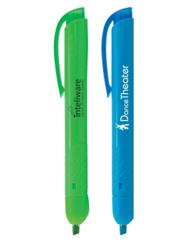 Seattle, WA (PRWEB) May 23, 2013
BIC Promo Pens, one of the most trusted and recognized names in the advertising pens and promotional products industry for over 35 years, extends its collection beyond its wide selection of custom logo pens to include the BIC Promotional Brite Liner Retractable Highlighter. This is in addition to other customizable BIC products in its collection, including BIC pencils, BIC lighters and BIC eco-friendly writing instruments.
The BIC Bright Liner Retractable Highlighter (BLR) offers the same high level of quality that customers have come to expect from BIC products. It will be highly valued and treasured by customers, clients, business contacts, associates, trade show attendees and by whoever else that companies choose to give this promotional product. It stands out from the crowd not only for its bright colors, but also for its unique retractable mechanism that is not commonly found on conventional highlighters.
The body and the ink of the BIC Bright Liner Retractable Highlighter is available in a choice of three bold colors: yellow, blue or green. The yellow highlighter is one of the most popular options, as it is the most common color for highlighters, but both the blue and the green varieties are also very popular among customers who want to stand out from the crowd.
As with all other promotional pens sold by BIC Promo Pens, the Brite Liner Retractable also includes one free color imprint with either a company logo or up to three lines of custom text to commemorate events or provide company contact information. The text can be just about anything and it can be imprinted in a choice of over a dozen different colors. The imprint text or logo can be placed on the barrel of the highlighter or, for a small additional fee of 12 cents per unit, on the clip of the highlighter instead.
Pricing for the BIC Bright Liner Retractable Highlighter from BIC Promo Pens starts as low as $1.47 per unit including the color imprint and no setup fee. And like all other orders with BIC Promo Pens, the BLR also ships at no additional charge to anywhere in Canada and the United States.
For more information on how the BIC Bright Liner Retractable Highlighter will help a brand really jump off the proverbial page and become a bright spot in the day of any customer, or for information on any of the custom advertising pens from BIC Promo Pens, call 1-888-844-7367 or order online at bicpromopens.com.
About BIC Promo Pens:
BIC Promo Pens has been providing BIC promotional pens for over 35 years and has helped over 300,000 customers increase brand awareness and customer loyalty through their high quality products. BIC Promo Pens offers the lowest prices on all its BIC promotional pens and pencils, including free UPS ground shipping on all BIC pens orders.