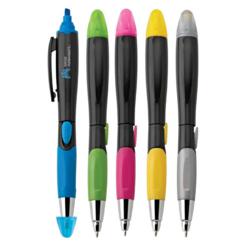 Seattle, WA (PRWEB) May 03, 2013
1234 PENS, the most preferred source for customized logo pens in the United States and Canada, recently celebrated a major achievement in the history of the promotional products company. It has now sold over one billion pens to satisfied customers all around the world. Everyone loves a free pen and this monumental milestone further solidifies the fact that 1234 PENS is a trusted name in the promotional products industry.
Proud to be in business for over three decades, 1234 PENS has grown and adapted with the times. Today, its collection of custom promotional pens, pencils and other writing instruments is second to none. For companies with tighter marketing budgets, 1234 PENS offers incredibly affordable solutions like the Liberty customized logo pen. Priced as low as $0.36 per unit, even this basic entry-level pen comes with a colorful translucent plastic barrel and a matching rubber comfort grip.
Several well-respected and notable brand name pens can also be customized with company logo and contact information by 1234 PENS. This selection includes a range of pens from such famous brands as Paper Mate, BIC, Sharpie, Uni-Ball, Sheaffer and Cross. The remarkably classy Cross ATX Pure Chrome Roller Ball pen, for instance, offers a contemporary and chic style, complete with a superior black Cross ink cartridge and lifetime warranty. Customers can imprint the pen with a company logo or up to four lines of text in a variety of colors.
For added versatility, 1234 PENS also has a range of promotional pens with dual functionality, as is the case with the highlighter-pen combos or the ball point pens that come equipped with a capacitive stylus for use with touchscreen smartphones, tablets and other mobile devices.
Companies and organizations of all sizes can benefit from giving away customized logo pens to their clients, business partners and company contacts. 1234 PENS is prepared to handle orders both big and small, arranging for delivery anywhere in Canada or United States in as little as 48 hours. Its unwavering dedication to top-notch customer service has allowed 1234 PENS to earn the respect and praise of thousands of satisfied customers. The next billion promotional pens surely can't be far behind.
For more information on how 1234 PENS can help a company build its brand presence in the marketplace at a very affordable price, call 1-888-844-7367 or order online at http://www.1234pens.com.
About 1234 PENS:
In business since 1976, 1234 PENS has helped thousands of clients increase brand awareness and customer loyalty through their high-quality products. 1234 PENS offers pens, pencils and gift sets to suit all budgets, and offers 48-hour delivery on a number of attractive designs.