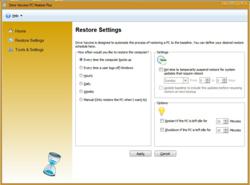 We're all about making the management of public PCs simple.
(PRWEB) May 03, 2013
Horizon DataSys announced today the official release of version 10 of its popular Drive Vaccine software. This new Drive Vaccine application gives IT managers a simple yet powerful way to instantly restore public access PC's back to a clean slate (or "baseline").
Drive Vaccine, the leading PC auto-restore utility, is increasingly becoming the go-to replacement for Microsoft's Windows SteadyState. "Windows SteadyState users can easily migrate to any one of our instant restore software products," explains Jester Santos, Customer Support Manager. Horizon DataSys offers a freeware solution, Reboot Restore Rx, as well as an advanced disaster recovery solution called RollBack Rx.
Drive Vaccine V10 has a simpler, intuitive interface and has been optimized for Windows 8. The new version enables IT administrators to easily accommodate Windows updates and exclude certain system files from the auto-restore process. The architecture of Drive Vaccine is designed to prevent inadvertent user errors or malicious changes from remaining on the hard drive. In essence, Drive Vaccine acts as a write-protect for the hard drive.
Drive Vaccine V10 incorporates Horizon DataSys' patented sector-mapping technology, delivering the most robust restore-on-reboot technology. The latest release of Drive Vaccine allows for instantaneous baseline updates with only a few mouse clicks. Keeping true to its vision of simplicity, Drive Vaccine V10 delivers a very easy method for accommodating Windows and anti-virus updates. Lyle Patel, the President explains "… the single complaint we hear most often about restore-on-reboot type software is that the write-protection has to be turned off in order to do any updates. If any issue arises with the update during the non-protected state - the changes become permanent and there's no recourse to return to an earlier baseline. This pain point has been addressed in our latest version of Drive Vaccine."
Most traditional backup techniques are very time-intensive, the most common being imaging. Many IT managers find that imaging is a last-resort solution in terms of restoring computers to a previous best known state. However, many schools have found themselves constantly going through this tedious process. Drive Vaccine, on the other hand, offers a much quicker way to automate the PC restore process on any fixed schedule (or on every reboot, log-off, after a period of inactivity, etc.). PC technicians never have to rebuild their workstations again. "We're all about making the management of public PCs simple," says Lyle Patel.
"Our software greatly reduces IT costs and complexities associated with the managing of multi-user computer environments. Drive Vaccine lets teachers spend more time teaching and IT departments to allocate more of their resources on other important tasks," claims Gonzalo Ortiz de Zevallos, Senior Account Manager. "No longer do IT departments need to spend unnecessary man hours devoted towards fixing common PC related issues."
Drive Vaccine also offers a free network management utility enabling admins to easily manage thousands of PCs from a remote location. This greatly facilitates regularly scheduled maintenance periods during which updates and patches can be automatically pushed out to all the network workstations.
About Horizon DataSys:
Horizon DataSys Corporation is a privately held software company headquartered in Blaine, WA with offices in Vancouver, Canada, and London, England. Horizon DataSys develops, publishes, and distributes branded computer software applications designed for end-users and enterprises. The company specializes in end-point PC management, OS integrity, and instant restore. The company's business solutions allow organizations to reduce risks related to software corruption, inadvertent changes, malicious hacks, virus infections, and unauthorized PC access. It's primary offerings include its Instant Restoration Suite (Rollback Rx, Drive Vaccine, and Reboot Restore Rx) and Virtual Desktop. In addition to its many off-the-shelf turnkey products, it also supports clients to customize solutions that suit the specific needs of their IT environment.