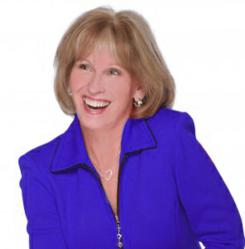 You were GREAT! Our group said it was the BEST they have either seen or heard! | American Airlines
Dallas, TX (PRWEB) May 16, 2013
Human Relations Expert and Motivational Speaker offers new, game-changing tools to corporations eager to close the cultural, generational and communication gaps in their teams so they can get the ownership and buy-in they need to self-motivate, get ahead of the competition and standout from the crowd regardless of market conditions.
"In order for organizations to reach new levels of productivity, profit and market share, they must have buy-in, consensus and ownership from their employees. Without that, they will leave both money and customers on the table," says author, business motivational speaker and change expert Connie Podesta. "Because in the absence of those things—your team is not fully committed to helping you achieve the results necessary to out-think and out-perform the competition. I developed this new topic in response to so many of my clients who were looking for innovative, strategic ways to increase employee consensus."
Connie Podesta's "How to Get People on Board...so you can achieve the RESULTS you want! The Power of Teamwork, Consensus and Ownership" is a topic gaining traction with corporations, sales leaders and organizations around the globe. Why? Because the ability to gain consensus, ownership and buy-in from the people who count--without manipulation, intimidation, sacrificing relationships, or stepping on toes is a necessary component not just in today's board rooms and sales markets, but every member of the team from front desk to corner office.
Why? On the heels of recession, businesses find them themselves, more than ever, trying to balance an organization filled with multi-generational, multi-cultural team members. From 'Boomers' to Gen X to Gen Y or Millenials – finding the 'blend and the balance' is crucial to a cohesive team.
Not your typical 'rah-rah' motivational speaker, but instead an expert in human relations, communication, consensus and change, Connie Podesta helps teams get right inside the minds of not just their colleagues—but their customers-- to help businesses capture the lost market share of their competitors who are unwilling or unable to change and the respect and loyalty of customers who appreciate a company open to new ideas and strategies.
"Connie was awesome and insightful—refreshing humor and so true!"- Microsoft
To Get People On Board Today You Must:

Understand how to communicate with different personality types
Adopt to new cultures, communication methods and insights
Be willing to break status quo and accept new challenges
Celebrate diversity, while finding common ground
Connie Podesta's Stand Out Strategies are empowering organizations to break out of traditional mindsets and in turn, break new boundaries on what they can accomplish. Getting people on board? As leaders, sales professionals, staff and even network mentors and support personnel—The ability to artfully persuade and sell one's ideas is a must for staying ahead of the competition and creating a foundation for success within a company.
"Our world is changing 24/7. And leaders are suddenly finding themselves outside their elements in terms of communication and culture. What I do, with humor, fun, and REAL strategies and tools, is to bring teams TOGETHER, so they can work smarter, leverage strengths, develop stronger relationships – both with teammates and with customers, and work together to give companies the edge they so need as markets continue to change," shares Connie. "If you want to out-think, out-perform the competition and create long-term, sustainable success that brings you the security you want with the balance you need, you're going to have to do some things differently. That's what I teach, and what leading organizations around the globe are doing to make the kind of changes that allow them to finally realize their complete potential."
For more information on Motivational Speaker Connie Podesta's schedule and availability or to learn more about her award winning book 10 Ways to Stand Out From the Crowd, contact her team today at 972-596-5501, via email at info(at)conniepodesta(dot)com. You can visit her website online at http://www.conniepodesta.com.