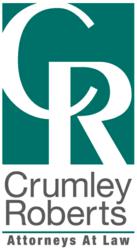 We believe these students are the leaders of tomorrow.
GREENSBORO, N.C. (PRWEB) May 02, 2013
Seven North Carolina students are one step closer to realizing their dream of earning a four-year college degree. Crumley Roberts, LLP, today announced the winners in both divisions of its 2013 scholarship contest.
Each year, Crumley Roberts awards its Founder's Scholarship to graduating high school seniors who will attend an accredited four-year college or university. This year, four students were selected to receive the Founder's Scholarship in the amount of $2,500: Katarina Caskey of Spring Lake, N.C., Mary Hurst of Aberdeen, N.C., David Long of Tarboro, N.C. and McKenna Metz of Charlotte, N.C.
In addition, Crumley Roberts awarded its $2,500 Next Step Scholarship to three community college students planning to transfer to an accredited four-year college or university. The recipients are Dakota Crapps of Connelly Springs, N.C., Haley Ginn of Goldsboro, N.C. and Margaret Lindley of Greensboro, N.C.
The named students were selected from more than 260 applicants based on their essay responses to the issue of distracted driving, particularly in young drivers, plaguing our nation. Each of the winners proposed original and insightful ideas to decrease the number of deaths and injuries caused by distracted drivers. To select the scholarship recipients, essays were judged by an independent and diverse panel of accomplished professionals and community leaders. Only six scholarships were originally planned; however, due to the number of exemplary applicants, Crumley Roberts decided to award an additional Founder's Scholarship.
"Our scholarship programs are an investment in the future," said Chris Roberts, President and CEO of Crumley Roberts. "An investment not only in the lives of the recipients, but also in our communities. We believe these students are the leaders of tomorrow and we are proud to encourage their continued growth and success."
Crumley Roberts is committed to helping students follow their educational goals through its scholarship programs. To date, the firm has awarded $175,000 in scholarships and technology to college-bound students.
Founded in 1989, Crumley Roberts, LLP, represents individuals in the areas of personal injury, drug injury, product liability, workers' compensation, and Social Security disability. The firm operates 14 offices in North Carolina and South Carolina. To learn more about the firm and its community relations activities, visit CrumleyRoberts.com.