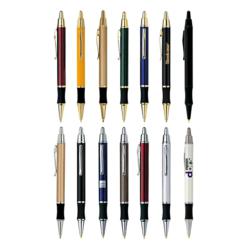 Seattle, WA (PRWEB) May 14, 2013
Everyone loves a free pen and that is why custom promotional pens are suitable for nearly any kind of business in nearly any kind of industry. At the 2013 New York International Auto Show, 1234 PENS promotional pens were used as one of the marketing tactics by several of the automakers and other car companies as a means of literally putting their brands into the hands of journalists, customers and industry professionals.
1234 PENS, the preferred source for custom logo pens in Canada and the United States for over 35 years, was proud to support the automotive industry as it drives ahead into the future with the latest in technology, design, safety and innovation. Several hot new cars, trucks and concept vehicles were revealed at the 2013 New York International Auto Show, recognized as North America's first and largest attended auto show.
Covering a space of nearly 900,000 square feet at the Jacob Javits Center, the New York Auto Show featured over 1,000 vehicles spanning just about every possible vehicle class, from compact hatchbacks to sporty coupes, rugged sport utility vehicles to environmentally-friendly eco vehicles for a greener tomorrow. Automakers from all around the world gathered in the space, from domestic car companies to exotic brands from overseas. This marked the 113th anniversary of the New York Auto Show.
With so many cars and so many brands under one roof, it can be a challenge for companies to get noticed, to get the attention they desire, and to ensure that their core messaging is remembered by visitors of their space after the show concluded. Fast pens from 1234 PENS aided in all of these goals, offering a promotional product that is valued and will actually be used beyond the time frame of the automotive trade show.
To learn more about how high quality custom logo pens can be one of the most effective marketing tools for any company in any industry, call toll-free to 1-888-844-7367 or order online at 1234pens.com.
About 1234 PENS:
In business since 1976, 1234 PENS has helped thousands of clients increase brand awareness and customer loyalty through their high-quality products. 1234 PENS offers pens, pencils and gift sets to suit all budgets, and offers 48-hour delivery on a number of attractive designs.