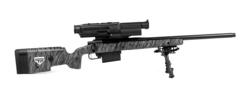 We new linux powered firearms were a hot topic, but we had no idea just how far the conversation would go.
Austin, TX (PRWEB) May 04, 2013
When the article on Ars Technica about TrackingPoint's Precision Guided Firearms ran, no one expected quite the online response that ensued. 400+ reader comments, 12,000+ Facebook shares, 1000+ tweets and 50+ Reddit comments later, the internet forums took it and ran with it. From tech and linux forums, to weapons forums to survival and politics discussions, a significant volume of interaction is occurring about the infamous Linux powered rifle. The concept of a firearm with an integrated networked tracking scope that tracks the target, calculates range and the ballistic solution, and works in concert with the shooter and guided trigger to release the shot has been a hotbed of online technology discussion.
Military Photos, Gentoo, Defensive Carry, XD Talk, Military.com, Old Hippy, PR Gaming, TechPowerUp and many more all carried on conversations about the precision rifle, featuring users debating about its price, its linux backend, the ethics of hunting with the system, whether TrackingPoint PGF's are the best rifle on the market today, and what functions and technology the system possesses. Pictures from the system's Heads up Display that indicate range, wind, reticle, video storage gauge, zoom, and battery life, plus LRF icon, Wi-Fi on/off icon, compass icon, cant wheel, inclination wheels, and off-screen indicators circulated as well. Notable firearms forum AR15.com hosted one of the most thorough conversations on the topic, providing for an interesting read on the many opinions associated with the TrackingPoint long range rifle.
With coverage from major tech outlets including Mashable, Techcrunch, Gizmodo, Boing Boing, Popular Science and more, we assume that the conversation about Precision Guided Firearms, scheduled to enter the marketplace in May, is just beginning. This is no surprise, considering the company's founder has a long chain of successful high-technology companies in a variety of fields, including intrusion prevention, cyber-security and high speed internet.