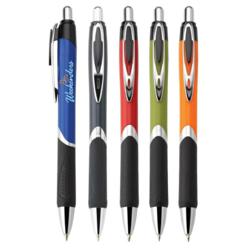 Toronto, ON, Canada (PRWEB) May 07, 2013
Already home to a wide collection of affordable and fashionable promotional pens in a range of colors and styles, TorontoPens.com now proudly offers the Toronto T4026 promotional pen as part of its product lineup. TorontoPens.com, a member of the 1234 PENS family of promotional product companies, is the recognized leader in industry for custom imprinted pens, logo pens and fast pens in not only the Toronto market, but all across Canada and the United States as well.
The Toronto T4026 is a positively superb push-action pen with a satisfying click, giving all customers the sense of assurance that they are receiving a high quality product that is reliable and will withstand the test of time. The ballpoint pen comes in an elegant aluminium body with matching Colorplay barrel and grip in a choice of five different colors: black, blue, green, silver and red. All Toronto 4026 pens come with classic chrome trim and black accents.
When it comes to Toronto pens that can be given away at trade shows and conferences, as well as by companies at community events or when potential customers come to visit the office, the Toronto T4026 is one of the best choices on the market today. It offers a dash of class and prestige, while still giving the opportunity to add a touch of color and personality. As with all other advertising pens sold by TorontoPens.com, the T4026 comes with a satisfaction guarantee.
Pricing for the Toronto T4026 starts as low as $1.79 per unit with orders as small as 150 personalized pens per batch. This makes this line of advertising logo pens ideal for companies of all sizes, large and small, regardless of the size of their marketing budget. Indeed, well-placed and well-planned promotional pens can be one of the most cost-effective ways to get a company's brand literally in the hands of its customers and clients.
When ordering from TorontoPens.com, customers enjoy the comprehensive no fee policy. This include no setup fee to get the order started, no imprint fee to place the company's logo or text-based information on the barrel of the pen, no logo fee, and no charge ground shipping via FedEx or UPS on all orders.
To learn more about how incorporating advertising pens into a business's marketing plan can increase brand awareness and build customer loyalty, call 1-888-844-7367 or order online at torontopens.com.
About TorontoPens.com:
A member of the 1234 PENS family, TorontoPens.com has been in business for more than 35 years, helping more than 300,000 clients increase brand awareness and customer loyalty through their high-quality products. TorontoPens.com offers the lowest prices on all its customized promotional pens, and includes free express shipping on all orders to customers in Ontario.