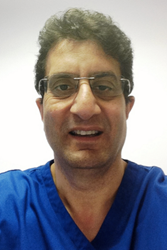 Dentists are regular and frequent users of sharps needles in their practice so this guidance is very important in our day to day working lives
(PRWEB) May 03, 2013
Leading Manchester dentist Tariq Drabu, the owner of Langley Dental Practice in Middleton, Manchester has today lent his support to the latest guidance from the Health and Safety Executive designed to reduce the problem of needlestick injuries. This statement of support was issued following guidance published by The Health & Safety Executive (HSE) called Health and Safety (Sharp Instruments in Healthcare) Regulations 2013 which will apply from 11 May 2013. A copy of the guidance can be seen here.
The document from the HSE advises that employers are required under existing health and safety law to ensure that risks from sharps injuries are adequately assessed and appropriate control measures are in place. The Sharps Regulations build on the existing law and provide specific detail on requirements that must be taken by healthcare employers and their contractors.
Commenting on the report Tariq Drabu said "I support the guidance from the HSE. Dentists are regular and frequent users of sharps needles in their practice so this guidance is very important in our day to day working lives." The HSE guidance applies to an employer whose primary work activity is the management, organisation or provision of healthcare (a healthcare employer) or to a contractor working for a healthcare employer and their staff may be at risk of a sharps injury while on the premises of or working under the management and supervision of the healthcare employer.
Tariq Drabu continued by saying "I note that the regulations require that several risk control measures are put in place; namely trying to avoid, so far as is reasonably practicable, the use of sharps. When sharps have to be used, 'safer sharps' are used where it reasonably practicable to do so. Needles are not capped/re-sheathed after use unless the risk is effectively controlled by use of a suitable appliance, tool or other equipment. Sharps must also be disposed of safely - written instructions must be available and clearly marked and secure containers are located close to areas where medical sharps are used. Safer sharps are instruments designed to minimise the risk of injury."
Tariq Drabu said "the guidance from the HSE stipulates that the employer must substitute traditional, unprotected medical sharps with a 'safer sharp' where it reasonably practicable to do so. The term 'safer sharp' means medical sharps that incorporate features or mechanisms to prevent or minimise the risk of accidental injury. Other factors must be considered namely:

the device must not compromise patient care
the reliability of the device
the care-giver should be able to maintain appropriate control over the procedure;
other safety hazards or sources of blood exposure that use of the device may introduce
ease of use (taking into account the existing clinical practices commonly in use by the relevant health professionals – but not assuming custom and practice is safest);
if the safety mechanism design is suitable for the application?
whether the safety mechanism is not effective if it is easily reversible."
Commenting on the risk of injury Tariq Drabu said "The HSE acknowledges that safer sharps will not eliminate injury. For example, a needle shield is activated after a procedure is completed, but a sharps injury to the healthcare worker can occur during the procedure (e.g. when a patient moves unexpectedly) and a 'safer sharp' will not prevent this."
In terms of the key requirements Tariq Drabu said "I support the key requirements which are that employers should do the following:
•To have a risk assessment to decide whether or not to re-sheath needles.
•To amend the sharps policy.
•To provide procedures, information consultation and training to team members.
•An employee who suffers a sharps injury at work must inform their employer as soon as practicable, and there is a requirement to train the employees to do so.
•There is a requirement to record any incident.
•It is necessary to regularly review the procedures and see how they can be improved, to reduce the use of sharps and to use safer sharps where possible, to consult with and train the team and to check and compliance with the procedures."
Tariq Drabu who is the owner of Langley Dental Practice concluded by saying "we are always looking at ways to reduce risk and we welcome the new guidance from the Health and Safety Executive. We will be conducting a review of our practising methods and amending them as necessary. We must look at identifying risks and minimising them. As dentists we must look to reducing the real risks and danger from sharps injuries. We look forward to taking these measures forward to improve our quality of patient care."