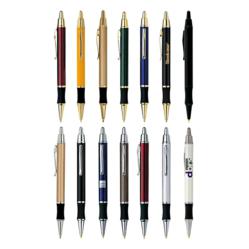 Vancouver, BC Canada (PRWEB) May 15, 2013
With over 35 years of experience in the promotional products industry, VancouverPens.com, as part of the 1234 PENS family of companies, has sold over one billion promotional pens to thousands of customers all across North America. This storied history and tradition has firmly established VancouverPens.com is the premier source of personalized pens in Vancouver and all across Canada.
Indeed, an informal survey was recently conducted in the Greater Vancouver region of a number of restaurant owners and managers across a range of different cuisines and establishment types. While the food, drinks ambiance and customer service will always be factors of paramount importance to the success of any eatery in any town, the use of pens has quietly become a big part of the restauranteur tradition as well.
The pens have traditionally been used by servers to take orders and the serving staff typically hold more than one pen in their aprons or otherwise on their uniform for this purpose. In the instance of credit card payments, a pen is usually required for the customer to sign the credit card slip. In addition to branding on the menus, napkins, decor and check holders, restaurant owners are recognizing that branded logo pens can play an important part in the overall branding initiative. Indeed, when customers are encouraged to take the free pen with them after they have signed their bill, this works to increase customer loyalty and it strengthens the brand of the restaurant in the community.
Generic pens may fulfill the same fundamental purpose of taking orders and signing credit card slips, but the personalized nature of promotional pens really helps to improve the branding for the restaurant, cafe, bar or eatery. When surveyed about where they prefer to buy their promotional pens, the overwhelming majority of restaurant owners and managers named VancouverPens.com, citing the wide selection of styles that can suit any budget. They also noted that there is no setup fee, as well as the complimentary shipping to anywhere in British Columbia and Canada. When restaurant owners need Vancouver pens, they turn to VancouverPens.com.
For more information on how promotional pens can extend brand awareness and improve customer loyalty for any business, call toll-free to 1-888-844-7367 or order online at vancouverpens.com.
About VancouverPens.com:
A member of the 1234 PENS family, Vancouver Pens has been in business for more than 35 years, helping more than 300,000 clients increase brand awareness and customer loyalty through their high-quality products. VancouverPens.com offers the lowest prices on all its customized promotional pens, and includes free express shipping on all orders to customers in British Columbia.