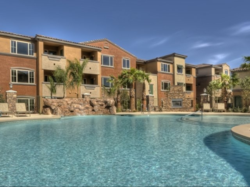 "Quest offers the same level of amenities and finishes as our other Colorado-based properties and we look forward to bringing the current residents at the community our high level of service." Tom Barta
Denver, CO (PRWEB) May 06, 2013
Griffis Residential, a Denver-based multifamily investment and management company headed by Ian Griffis, David Birnbaum, and Tom Barta, continues its regional growth with the acquisition of Quest Apartments in Henderson, Nevada.
The 310-unit community, constructed in 2009, is located in the high-end Las Vegas submarket of Henderson, offers one-, two- and three-bedroom apartments, and fits well into Griffis Residential's 3,600+-unit Class-A portfolio. Quest Apartments has close proximity to local employment centers and the region's best schools, and is 15 minutes from the Las Vegas Strip. The Quest Apartments purchase is the first of $150m in acquisitions planned for 2013, following $105m in purchases (832 units) in 2012.
"We're excited to add Quest Apartments to our portfolio. The Las Vegas apartment market fits well into our expansion strategy," says Tom Barta who oversees the company's property management as Chief Operating Officer. "Quest offers the same level of amenities and finishes as our other Colorado-based properties and we look forward to bringing the current residents at the community our high level of service."
About Griffis Residential
Griffis Residential is a multifamily real estate investment company that owns and manages more than 4,000 Class-A multifamily units along the Front Range including Denver and Colorado Springs. Headed by Ian Griffis, David Birnbaum, and Tom Barta, Griffis Residential focuses on balancing an aggressive expansion strategy with a superior guest experience for its residents. More information can be found at http://www.griffisresidential.com.
For information, please contact Ian Griffis (ian(at)griffisresidential.com), David Birnbaum (david(at)griffisresidential.com) or Tom Barta (tbarta(at)griffisresidential.com)