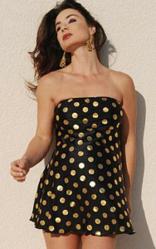 West Des Moines, Iowa (PRWEB) May 02, 2013
Bliss Baby & Maternity wants to ensure that no matter what the temperature is, no matter if spending time at home, at the beach, or at a community pool, a maternity swimsuit is a must. Just because a woman is pregnant, that is no reason to avoid the summer swimming fun. If there are other children in the family already, a trip to the swimming pool happens on a regular basis. It's too hot to not enjoy the water right along with the kids. Maternity swimwear has come a long way and there are several different styles and prints to choose from when trying to pick a maternity swimsuit. From full coverage suits for the more conservative to two-piece bikinis for the ones who are far more proud to announce their bulging belly. For the most part, maternity swimwear is pretty simple to size as most are done with your pre-pregnancy size and usually the bust is the area to focus on as some women who have larger busts will need to be careful that they get a suit that will allow them to feel comfortable while still providing the support that is required. Halters tend to be the best for the moms with the bigger busts, while the mini's and strapless tend to favor the moms with the smaller busts sizes. Bottoms are rarely an issue as they either have a comfortable amount of stretch to them or they have tie sides so the bottoms can be adjusted to fit. Try to make sure the swimwear this is purchased has cups as this tends to be tremendously helpful with support as well as discretion if the water is really cold! For those moms who swim more for exercise and do it more often, the most common suit for this is the one piece which is sized from small to extra large. Bliss Baby & Maternity has a tremendous selection of maternity swimwear for both styles as well as most budgets.
Bliss Baby & Maternity has a large selection of maternity swimsuits to choose from to include two piece, one piece and swimsuit cover-ups. Enjoy the summer and if visit http://www.blissbabyandmaternity.com soon; enjoy a 20% discount by entering MOM20 at checkout.