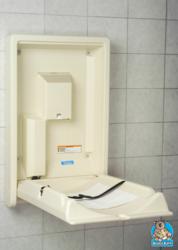 Babystations.com now sells the KB101 at the lowest price available anywhere online. We guarantee it.
Newark, DE (PRWEB) May 03, 2013
Babystations.com, a trusted name in the online community, has announced a significant price reduction on a number of its most popular products. One such product is the baby changing station KB101. From the original price of $199.00, the classic baby changing station is now sold for only $189.78.
The KB101 is produced by Koala Kare, a leading manufacturer of childcare products. It is a vertically-mounted baby changing station, which makes it a perfect addition to the commonly cramped public restrooms. To survive in such environments, the KB101 uses FDA-approved, high-density polyethylene for its body, and an easy to clean bed surface coated with Microban® antimicrobial. The bed surface not only resists both bacteria growth and bad odors, but also has a contoured design and safety straps to help protect the child-user. The KB101 is available in three different colors: cream, grey, and white granite.
When properly installed, the model can also comply with the required Americans with Disabilities Act(ADA) standards. A significant part of the product is even constructed using recycled materials, which will help the building owner gain Leadership in Energy and Environmental Design (LEED) credits.
If you're interested in getting your own KB101, head over to http://www.babystations.com/collections/popular-products/products/koala-kare-standard-vertical-plastic-baby-station.
Babystations.com has recently made significant improvements to its operational system. The resulting upgrade has allowed the company to provide better service than all other online stores selling baby changing stations at a fraction of the cost. Cameron, Matt, and Jerry, the company's founders, also happen to be proud fathers. The team of dads has made it a point to be sensitive to the needs of their fellow parents and customers. They provide only the best products at the most reasonable prices. True to this ongoing mission to provide quality customer service, Babystations.com has passed on these aforementioned operational savings to its valued customers.