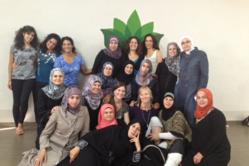 "BODY is proud to support the work of Anahata International and its yoga training programs in the West Bank," said BODY owner Lorin Parrish.
Santa Fe, New Mexico (PRWEB) May 02, 2013
BODY of Santa Fe announces a benefit yoga class in support of Anahata International and their yoga outreach efforts in the West Bank. The candle-lit class, Sunday Sadhana, will be held at BODY on July 14th from 5:30-7:30pm and taught by Shawn Parell, a BODY Yoga Instructor and Director of Programs at Anahata International, who will travel to the West Bank in June. The suggested minimum donation is $14, or a 1-class pass, in celebration and support of Anahata International.
In the Summer of 2012, Shawn Parell traveled to the West Bank to provide the first comprehensive foundational yoga and meditation training to 16 Palestinian women living throughout the region. With a curriculum developed by Anahata International, all 16 women received certification as yoga instructors, with an emphasis on trauma-sensitive yoga, pre-natal yoga, kids yoga, and meditation techniques, at no cost to them. The women, chosen for their leadership ability, have spread the practice of yoga throughout their communities as a way of coping with and healing the trauma associated with living in the West Bank, a conflict-ridden area marked by decades of violence and instability. Since that training, Anahata International has continued its support by providing ongoing mentorship and additional resources for the training graduates. Parell's return trip, scheduled for June of 2013, will reunite the students of the original class to deepen their practice and reinforce their skills in teaching yoga.
"BODY is proud to support the work of Anahata International and its yoga training programs in the West Bank," said BODY owner Lorin Parrish. "Multiple studies testify to the positive impact of yoga on those suffering from emotional and physical trauma, particularly for those living in conflict zones."
"So many western practitioners can relate to the transformative healing power of yoga in their own lives," said Shawn Parell, BODY Yoga Instructor, 500RYT, and Director of Programs, Anahata International. "This work is a chance to offer those benefits to underserved individuals and communities around the world which wouldn't be possible without the support of individual donors, engaged fundraisers, and conscious businesses like BODY."
For more information about BODY of Santa Fe and the Sunday Sadhana Class on July 14th at 5:30-7:30pm, please visit http://www.bodyofsantafe.com or call (505) 986-0362.
For press inquiries, contact:
Jennifer Hinsley
JLH Media
505 603 8643
Jennifer(at)jlhmedia(dot)com
###
About BODY of Santa Fe: Founded by Lorin Parrish in 2004, BODY is a yoga and dance studio, café, spa, fitness center and boutique as well as a childcare center and yoga teacher training facility located in downtown Santa Fe. Built on the premise of functioning as a community center that inspires and encourages wellness, BODY is known for its commitment to sustainable, organic and fair-trade products in its boutique and selections of raw and vegan food as well as wheat, dairy and sugar free meals. BODY's café includes selections of wild line-caught fish and locally grown chicken and lamb as well as organic wine, local organic beer and sake, veggie cocktails and elixirs. A new 200 hour Vinyasa teacher-training program, BODY Yoga School, began in spring of 2012. BODY was recently voted by Santa Feans as the best yoga studio, restaurant for vegetarians and place for a facial and massage. For more information, please visit http://www.bodyofsantafe.com or call 505.986.0362.
About Anahata International: Founded in 2007 by Angela Cerkevich and a team of dedicated volunteers, Anahata International is committed to sharing the power of yoga, meditation, and holistic wellness to underserved populations both in and outside of the US. The nonprofit works in partnership with community-based organizations to build strong ongoing programs in trauma-affected areas around the world, including Rwanda and the West Bank. To learn more about outreach programs please visit http://www.anahatagrace.org.
For more information about Anahata International's work in the West Bank, or to donate without attending, please visit http://www.indiegogo.com/projects/training-yoga-teachers-in-the-west-bank.