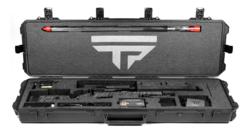 TrackingPoint is proud to display its innovative line of long range hunting products at this year's NRA Annual Meeting.
Austin, TX (PRWEB) May 03, 2013
Applied technology company and the world's first manufacturer of Precision Guided Firearm's TrackingPoint will have a booth at the 2013 NRA Annual Meeting in Houston Texas. TrackingPoint will be in booth 2160, which will offer a simulator of their TagTrackXact technology, iPads featuring the TrackingPoint Precision Hunter Lite iOS app, and company promotional items. TrackingPoint's TTX simulators give users the opportunity to experience the Precision Guided Firearms unique Heads Up Display. The HUD indicates range, wind, reticle, video storage gauge, zoom, and battery life, plus LRF icon, Wi-Fi on/off icon, compass icon, cant wheel, inclination wheels, and off-screen indicators to shooters as they track their targets. A team of TrackingPoint's firearms experts will also be on hand to field expert questions about their precision rifle technology and its various l ong range shooting applications.
Recently TrackingPoint has drawn crossover attention in the tech world, as major online and print publications have covered their Linux Powered Firearms. An in-depth article from Ars Technica got carried over into dozens of firearms and tech forums and garnered an incredible amount of internet connection for the startup. Premier firearms blog AR15.com hosted one of the most lively discussions of the now infamous accurate rifle. As of today, the TrackingPoint YouTube channel, featuring technical videos on each of their core innovations as well as promotional videos for different uses, had over 1 million views, showcasing growing interest in the product.
While widely recognized today as a major political force and as America's foremost defender of Second Amendment rights, the NRA has, since its inception, been the premier firearms education organization in the world. The 2013 National Rifle Association Annual Meetings and Exhibits will be the 142nd NRA Annual Meeting. It takes pace at the George R. Brown Convention Center in the heart of downtown Houston, TX, May 3-5, 2013. Over 550 exhibitors covering over 400,000 square feet of exhibit hall space will be in attendance. The NRA Show is the largest shooting, hunting and outdoor show in the country. The NRA Annual provides experienced outdoor retailers & outfitters the best opportunity to sell merchandise, secure leads, book trips and interact with the outdoor community.