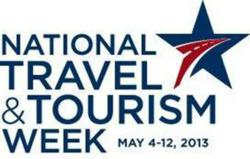 Last year, The U.S. Travel Association reported that tourism had a $15.36 billion direct economic impact in Tennessee generating more than $1 billion in state and local sales taxes for the sixth consecutive year.
Nashville, TN (PRWEB) May 02, 2013
In recognition of tourism's tremendous economic, social and cultural impact throughout the state of Tennessee, the Tennessee Department of Tourist Development will participate with the U.S. Travel Association in the 2013 National Travel and Tourism Week May 4-12. Themed "Travel Effect," cities and travel businesses nationwide will rally in support of the industry's impact on local communities and states.
"National Travel and Tourism Week is a perfect time to raise awareness about the significant economic development role our industry plays on a national, state and local level," said State Tourism Commissioner Susan Whitaker. "Last year, The U.S. Travel Association reported that tourism had a $15.36 billion direct economic impact in Tennessee generating more than $1 billion in state and local sales taxes for the sixth consecutive year."
In celebration of Tourism Week, Tennessee's tourism partners will honor those who help make tourism the second largest industry in the state. The Tennessee Welcome Centers will celebrate all week as industry partners host special events targeted to the many travelers who stop in for an official welcome to Tennessee.
For many years, attractions, communities and State Park representatives from West, Middle and East Tennessee have visited one or all of the state's 14 welcome centers. Many set up tables and greet visitors with their smile, culture, culinary specialties, wildlife, discounts and helpful information. This year, the Upper Cumberland Tourism Association will "share the love" with all of the state's welcome centers. Meanwhile, Johnson City CVB will deliver lunch to welcome center staff in the region and give away popcorn to the visitors.
VisitKnoxville is taking to the airways to promote tourism and their "Be a Tourist in Your Hometown" activities. Included is a day-long event on Market Square featuring "Southern HospitaliTEA" (sweet tea from Calhoun's restaurant) while locals meet the attraction representatives who provide the many tourist experiences in their hometown.
The Metro Memphis Attractions Association will recognize Tennessee Legislators at a Memphis Redbirds game and will host them in one of AutoZone Park's world class suites. Together, they experience first-hand how tourism effects the local economy.
A walk in Great Smoky Mountains National Park might give a visitor the designation of "Tourist of the Day." Each year, park officials and tourism officials from Gatlinburg, Pigeon Forge, Sevierville, Newport and Townsend randomly select a tourist and invite them to a ceremony in front of the park's headquarters.
Tourism Week is also an opportunity to honor the faces of tourism across the state. The Northeast Tennessee Tourism Association will salute the region's peak performers with their annual Pinnacle Awards Luncheon. The Greater Knoxville Hospitality Association honors hoteliers, restaurateurs and suppliers with Pauly Awards, named in honor of local tourism leader Paul Sherbakoff. And, the Tourism Department of Greene County Partnership will focus on front-line performers with the Presidential Pioneers of Hospitality awards.
Many tourism businesses focus on their own in-house employees. The Courtyard by Marriott in Johnson City celebrates their associates each day of Tourism Week to show appreciation for what they do for the guests and visitors on a daily basis.
National Tourism Week was established in 1983 when the U.S. Congress passed a joint resolution designating the week to be celebrated in May 1984. In a White House ceremony, President Ronald Reagan signed a Presidential Proclamation urging citizens to observe the week with "the appropriate ceremonies and activities."
Travel and tourism generated $2.0 trillion in economic output for the U.S. economy. The industry also represents one of America's largest employers, supporting 14.6 million jobs (including 7.7 million directly in the travel industry and 6.9 million in other industries). Direct spending by domestic and international travelers averaged $2.3 billion a day, $97.6 million an hour, $1.6 million a minute and $27,125 a second. For additional information on the U.S. Travel Association, visit ustravel.org.
To find your next vacation sweet spot explore tnvacation.com and join other Tennessee travelers following us on Facebook, Twitter, Pinterest, Instagram and YouTube.
###