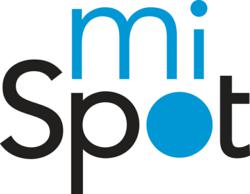 We want Michigan residents to know that we are Michigan based, have years of telecommunications experience and are family owned company
Pigeon, Michigan (PRWEB) May 03, 2013
miSpot, a division of Agri-Valley Communications, Inc. based in Pigeon, Michigan is rolling out 4G LTE Broadband for the home and small business in the central and northern regions of Michigan.
Many areas in central and northern Michigan have no broadband service available or have limited options. For this reason, the demand for miSpot's service has been exceptional. miSpot rolled service out in Manistee, Michigan and have since added another 21 sites. miSpot plans on having 90 sites by the end of 2013.
"Our service can benefit anyone. Many areas we service have been without a viable broadband option. We also have a seasonal plan to address the many residents in our area that are only here for four to six months of the year," said Chris Natzel, Sales Manager for miSpot. "Providing broadband to unserved and underserved areas is huge. It's a huge benefit to the quality of life, economic development, and educational opportunities. Some of the school districts in miSpot's service area have received grants to purchase IPads for their students but there was no available broadband. With miSpot, students will be able to do their homework from home using broadband. Further, broadband availability provides opportunities for telecommuting." he added.
The new 4G LTE service is broadcast over 700MHz licensed spectrum purchased at an FCC auction and is designed for use in the home or small business. It is designed as a fixed type service but miSpot offers a dongle device allowing users to move from one miSpot coverage area to another and still have access to the service.
Although miSpot is new, its parent company has been offering telecommunications services for over 100 years. The parent company provides an experienced technical staff and is always at miSpot's disposal.
"We are not like the big boys," said Natzel. "We want Michigan residents to know that we are Michigan based, have years of telecommunications experience and are family owned company." Natzel added. miSpot is new to the central and northern Michigan area so to help residents feel more comfortable with their purchase of miSpot service, miSpot offers a 30 day, no strings, money back guarantee.
Internet plans start at $34.99 per month. More information on pricing, as well coverage maps of the miSpot service, is available on their website at http://www.mispot.net.
About miSpot
miSpot is a 4G LTE high speed wireless broadband Internet service provider that was created to provide residents in select areas of Michigan with wireless Internet capabilities that have never been available to them before or where only a few choices have been offered. miSpot is a proud member of WISPA, a trade association that promotes the development, advancement and unity of the wireless Internet service provider industry. For more information about WISPA visit http://www.wispa.org.