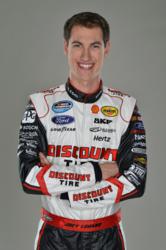 Discount Tire and Penske Racing have again assembled a winning team for the No. 22. We've earned one NNS championship with Brad in 2010 and with new talents Joey and Ryan joining the team, we believe this season holds great promise
(PRWEB) May 02, 2013
Joey Logano will make his first start as the driver of the No. 22 Discount Tire Ford Mustang this weekend at Talladega Superspeedway. It's the perfect starting spot for Logano, who comes into the weekend's race as the defending NASCAR Nationwide Series winner at the 2.66-mile Talladega oval.
Discount Tire is the world's largest tire and wheel retailer, and sponsors the No. 22 team in the NNS featuring champion driver Brad Keselowski, Joey Logano and Ryan Blaney.
Teammate Brad Keselowski is coming off of a stellar performance with a win at Richmond last weekend in the No. 22 machine and Logano looks to carry that momentum into Talladega. Joey is scheduled to pilot the No. 22 Ford at the next four NNS races including Darlington, Charlotte and Dover.
Logano has 18 career NNS wins in 110 series starts and has raced to victory at 13 different NNS tracks including Talladega. He also has 22 poles in the series which is eighth all time
"Discount Tire and Penske Racing have again assembled a winning team for the No. 22," said Discount Tire President Michael Zuieback, who leads the company's NASCAR program. "We've earned one NNS championship with Brad in 2010 and with new talents Joey and Ryan joining the team, we believe this season holds great promise. The No. 22 continues to be a symbol of our company's winning culture and is a rallying point for our great employees who are the team behind our brand."
ABOUT DISCOUNT TIRE/AMERICA'S TIRE
Discount Tire/America's Tire, based in Scottsdale, Arizona, is the world's largest tire and wheel retailer. The company does business under the trade name Discount Tire in most of the U.S. and America's Tire in Oregon, and parts of Washington and California. The company currently operates more than 850 stores across the country. In 2010, the company marked its 50th year serving customers as their trusted tire retailer in local markets across the U.S. Discount Tire/America's Tire also sponsors NASCAR Nationwide Series and Monster Energy AMA Supercross. For more information about Discount Tire/America's Tire visit discounttire.com or americastire.com.
###