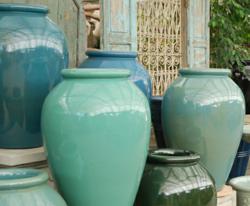 We like to use Gladding McBean pots in the summer because of their vibrant color. - Jeff Dieli at Ralph Lauren
Santa Barbara, CA (PRWEB) May 22, 2013
Eye of the Day has continued to gain exposure around the country, recently selling two of Gladding McBean's oil jars to Ralph Lauren's East Hampton location and additional sales in New York to the Tommy Bahama flagship store on Madison Avenue, as well as ABC Carpet and Home.
Stanford Shopping Center has invited Eye of the Day Garden Design Center to occupy their Pavilion area from mid-June through mid-July with a pop-up store featuring the upscale products from their Santa Barbara location. The merchandise offered at the temporary retail store will include:

Italian terra cotta pottery
French Anduze pottery
Greek terra cotta
Glazed Gladding McBean pottery made in California
Stanford Shopping Center is located adjacent to Stanford University and has proven to be one of the top shopping destinations in the country, with preferred high-end retail stores including Neiman Marcus, Nordstrom, Ralph Lauren, Tiffany and Co. and a number of smaller boutique stores. The grounds of the shopping center feature world-renowned flowers, manicured by three full time gardeners. The seasonal color and numerous fountains found throughout the outdoor shopping area provide a unique and luxurious shopping experience, which Eye of the Day will be an excellent addition to.
About Stanford Shopping Center
Stanford Shopping Center is Northern California¹s premier shopping and dining destination with Neiman Marcus, Bloomingdale's, Nordstrom, Macy's, Macy's Men's and more than 140 world-class specialty stores and restaurants, all in a spectacular outdoor garden environment. Unparalleled shopping, extraordinary dining and breathtaking gardens all combine to create a truly unique shopping experience. For more information, visit http://www.stanfordshop.com.