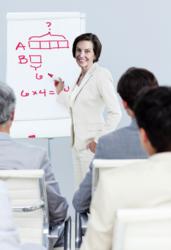 Tricia is able to include math content, Common Core practice and content standards, and Flipped Classroom technology material into a one-day seminar that left me wanting more. — 4th grade teacher, Scottsdale, AZ
Scottsdale, AZ (PRWEB) May 03, 2013
Tricia Salerno, a nationally renowned provider of professional development in the area of Mathematics Education, will present "Flipping your Classroom for Mathematics: Practical Strategies and Outstanding Tools to Successfully 'Flip' Your Classroom for Math (Grades 3 – 6)" for the Institute of Educational Development, in Chicago on May 15 and 16, in Piscataway, N.J. on May 22, and in Minneapolis on May 23, 2013.
These seminars, provided by the Institute of Educational Development, are designed to introduce math educators in grades 3-6 to the concept of the flipped classroom. The flipped classroom is a hot topic in education these days. Until recently, however, the majority of educators flipping their classroom have been in high school and university classrooms. Salerno said, "I'm excited to be one of the first to bring this incredible technique to the attention of teachers of intermediate grades."
Flipping the Classroom is a broad term for a concept including using technology and student time outside of school to learn a topic, and use class time to do hands-on, experiential practice of the topic. Student engagement soars! Teachers have more time to interact with students and are able to differentiate instruction in ways hard to imagine.
"Flipping classrooms has been a revelation in my education practices," said Salerno. "It is the first technique I have used that has shown positive results across the board. Student engagement, parent involvement, and administration buy-in were all incredible! My company has developed educational software, but I still consider myself a technology neophyte. This seminar focuses on the educational and teaching aspects of the flipped classroom and simplifies the technology, so neophytes like me can use this technique immediately. You don't have to be James Cameron filming 'Avatar' to get effective results."
Attendees of these seminars will receive a Comprehensive Resource Handbook. They will also leave the seminar having videotaped their own flipped classroom lesson. This seminar will be interactive and include tons of practical information for the teacher interested in maximizing face time with students to increase mathematical understanding.
About IED
The Institute for Educational Development (IED) is a national sponsor of professional staff development for educators. For more information regarding IED, or to register for these seminars, visit http://www.iedseminars.org/.
About Tricia Salerno
Tricia has taught Singapore Math® since 2001 in grade levels K – 7. She received her Master's Degree in Mathematics Education in 2004 and has trained teachers in Singapore Math® methods throughout the United States, as well as in Europe and in the Caribbean. Tricia has recently worked in Manhattan, Brooklyn, Queens, and the Bronx, New York; Brandywine District, Delaware; and Poughkeepsie Schools, NY, supporting hundreds of teachers in their implementations of Singapore Math® in their districts. Tricia has experience working with teachers and administrators in inner city and affluent districts, charter schools and in highly respected private schools, and shares her passion for math understanding with all she meets. Sherri Adler, Tricia's partner in SMARTTraining, LLC, and Tricia are co-authors of the widely used "Singapore Math Intervention Club." http://www.SingaporeMathTraining.com. Tricia is also the author of "Math Sprints", http://www.SingaporeMath.com, and the producer of several technology pieces created to supplement and support the math strategies used in Singapore. http://www.SingaporeMathNow.com.
Since 2012, Tricia has been sought out to work with schools and districts in implementing the Common Core Content and Mathematical Practice Standards. She is an editor for Common Core Projects Math Curriculum Development Project, which is creating "A Story of Units," the New York Math curriculum based on New York Common Core Learning Standards.