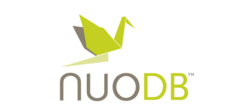 Worldwide data is doubling every two years, and innovative companies in every industry are striving to both cope with the deluge and exploit it for competitive advantage - Barry Morris, NuoDB CEO and Co-Founder
Cambridge, Massachusetts (PRWEB) May 02, 2013
NuoDB, Inc., the pioneer in Cloud Data Management Systems (CDMS), announced today that it has been named as one of only five "Cool Vendors in Information Infrastructure and Big Data 2013" by Gartner, Inc., the leading industry analyst firm.
Each year, Gartner identifies Cool Vendors in key technology areas and publishes a series of research reports highlighting these innovative vendors and their products and services.
For this report, Gartner selected companies that offer "capabilities that enable information producers and consumers to describe, organize, share, integrate and govern any type of data and content, anytime, anywhere." NuoDB was specifically recognized as the first of a new breed of database management system that combines the benefits of ACID SQL capabilities with the ability to scale elastically and easily.
Supporting quote
"Worldwide data is doubling every two years, and innovative companies in every industry are striving to both cope with the deluge and exploit it for competitive advantage," stated Barry Morris, CEO and Co-Founder of NuoDB, Inc. "Many excellent technology companies are focused on building solutions for next generation information management, and we are honored that Gartner has identified the NuoDB Emergent Architecture as a key breakthrough in the field."
About the NuoDB Starlings release
The NuoDB Starlings cloud database delivers elastic scalability with high performance, SQL compliance and guaranteed ACID transactions. The release eliminates the need for the complex database actions such as clustering, performance tuning, sharding and replication that are typically associated with bringing applications to the cloud.
About NuoDB
NuoDB, Inc., is a Cambridge, MA-based technology leader that provides the industry's patented, elastically scalable Cloud Data Management System (CDMS). Named a Gartner 2013 "Cool Vendor," NuoDB is architected to scale out effortlessly in the cloud without compromising any of the features or guarantees of relational databases.
NuoDB customers include automotive after-market giant AutoZone, NorthPoint Solutions and other innovative companies.
NuoDB was launched in 2010 by industry-renowned database architect Jim Starkey and accomplished software CEO Barry Morris. http://www.nuodb.com