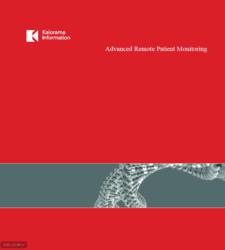 Rockville, MD (PRWEB) May 03, 2013
Philips and Medtronic are the leading companies in remote patient monitoring, according to Kalorama Information. The healthcare market research firm says that these companies are able to leverage existing sales to hospitals and rapid product introductions to maintain market share. But market-watchers shouldn't discount smaller companies, who still represent a sizable portion of the market according to a newly-published study of the market, Advanced Patient Monitoring Systems.
Advanced patient monitoring systems can transmit important medical data from a patient's bedside or home, for use by medical professionals or transmission to EMR records. It is increasingly popular to reduce hospital stays and reduce staff needs, according to Kalorama. There are a huge number of companies offering some form of wireless and remote technologies. Competitors supplying new technologies in patient monitoring to hospitals are typically large, established healthcare companies, often working in conjunction with information technology (IT) companies on an entire system. The report found that four companies, Philips, Medtronic, Covidien and Roche, have over 35% of the global market. But the rest of the market is scattered, with small companies who may be private and may have one or two key products.
"Large vendors dominate, but half of the revenue of this market are small players with nominal global market share," said Bruce Carlson, Publisher of Kalorama Information. "Small vendors will drive growth in the market and offer cheaper or more effective products. This is particularly true in the home care and telemedicine segment."
Each of the market leading companies have boosted their market share by focusing on certain types of monitoring, according to the report. Philips SureSigns monitors measure vital signs, EKG and respiratory functions. Medtronic, with its Reveal DX and XT insertable monitors, help cardiac patients. Covidien produces a variety of oximetry and capnography systems, while Roche is a leader in glucose monitoring, and its AccuCheck line has added products with remote capability.
But there are many options for hospitals seeking to keep track of patients from areas of the hospital or at home. Upstarts such as China's Mindray, with its Passport portable monitors; Japan-based Omron's marketing blood pressure and EKG systems and Irvine, CA-based Maismo with its Rainbow SET pulse oximetry systems have profited along with the device giants in this market, according to the report. With attractive, double-digit revenue growth, Kalorama expects more competitors and more products.
Kalorama's market research study in this market, Advanced Patient Monitoring Systems, contains both a global and US market estimate and forecast for advanced remote patient monitoring systems. The report covers key trends in the industry and profiles several key players in the market. The report can be purchased at Kalorama Information at: http://www.kaloramainformation.com/Advanced-Remote-Patient-7450566/
About Kalorama Information -- Kalorama Information, a division of MarketResearch.com, supplies the latest in independent medical market research in diagnostics, biotech, pharmaceuticals, medical devices and healthcare; as well as a full range of custom research services. We routinely assist the media with healthcare topics. Follow us on Twitter, LinkedIn and our blog.
Contact:
Bruce Carlson, publisher
KaloramaInformation.com
press(at)kaloramainformation(dot)com