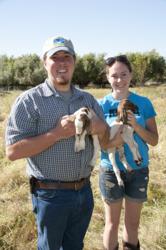 A typical farm can generate $100,000 in added income, just from guests staying overnight in tents..."
Oroville, Calif. (PRWEB) May 03, 2013
More North American farmers will be harvesting profits from farm stays in the near future, according to Daan van der Starre, director of Feather Down Farm Days USA, the world's largest provider of farm stays.
"Our objective is to grow steadily the number of farms on this continent to 150 camp sites," said van der Starre whose company has three locations in California, Illinois and New York and now operates 55 farm stays in Europe. He described this growth as "achievable, considering that we opened 35 Feather Down farms in the UK in just six years."
The Feather Down experience includes staying in nostalgic tent cabins on real working farms, with the farm experience explained and guided by farmers. Feather Down farms appeal primarily to families with young children.
Van der Starre said, "California and Oregon alone have space for 25 Feather Down farms, though we're also looking at locations in Washington and British Columbia, in Texas and along the east coast. Our search is for diversified organic or even biodynamic farms within a three-hour drive of major cities, that are in a beautiful setting or are near national or state parks."
"A typical farm can generate $100,000 in added income, just from guests staying overnight in the tents," said van der Starre. "That doesn't include what a farm can generate from sales in its Honesty Shop or from additional services, like rental bikes or horseback rides. Supplemental income from farm stays, like this, is helping to sustain family farms," he explained.
For that return, a farm's initial infrastructural costs are about $40,000. He explained, "Often, farmers will repurpose old farm buildings. At our newest farm near Oroville, Calif., a Quonset hut used to store flats of olives was turned into a character-filled Honesty Shop, and shower houses that once were used by field hands have been refurbished for use as family shower facilities."
Feather Down provides the tents, marketing, operating systems, reservation systems, and helps secure loans, permits and financing. Farmers contribute the location, hospitality and infrastructure, including a building to house the Honesty Shop where local farm goods and sundries are sold, shower houses, restrooms, roads to the tent area, water and waste disposal.
"The most time-consuming aspect," van der Starre explained, "is the local permitting process. However, as we open more and more farms, this becomes easier. Farms we've opened show local government how this new marriage of farming, education and lodging works. More than anything, they, too, want to keep family farms as viable businesses."
Van der Starre said, "Throughout the process of opening a Feather Down farm, a lot of communication occurs. We provide a handbook to guide the farmers. Though, each farm is different. So, we spend a lot of time explaining every detail of the operation and will meet several times before we finalize an agreement. Then, we assist with local regulations and setting the tents up, leading to the farm's grand opening."
Feather Down Farm Days tent cabins are priced beginning at $525 for a two-night stay; they accommodate up to six guests. The tents are often described as "shabby chic" for their highly stylized interiors and furnishings that evoke late-1800s farm life. Guests sleep on beds made up with linens and duvets, and dine inside by a wood burning stove at a time-worn farm table or outside at a picnic table. At night, the tents are filled with the warm light of oil lanterns and candles, as there is no electricity to break the evocative mood.
Van der Starre explained, "One of our missions is to close the gap between ground and mouth. That's because, many people don't know where good food comes from, today; they have no idea what goes into growing healthy food. Increasingly, our society has become detached from nature and healthy living. A Feather Down farm stay puts young families back in touch with agrarian life and the good things that come from family farms," said van der Starre.
"We look for real, working farms that share our passion about educating the public on the benefits of organic fruit and vegetables, and humane husbandry. Our farmers take an active role in involving guests and introducing them to all aspects of farm life. We're believers that education leads to awareness, which, in turn, leads to good eating, healthy and happy people. In the end, we see good food and outdoor life as forms of preventive medicine that could end a lot of suffering, reduce the cost of health care and benefit the planet," said van der Starre.
Feather Down Farm Days began in 2003 in The Netherlands, where it is known as "Het Betere BoerenBed" (The Better Farmer's Bed). It was the vision of Luite Moraal, a former Disney executive and CEO of Center Parks, a series of themed camping-oriented vacation villages throughout Europe. Van der Starre said, "In fashioning Feather Down Farm Days, Moraal sought to design a genuine, down-to-earth experience in contrast to the artificial world of Disney. Feather Down Farm Days appeals particularly to young families, whose children experience the pace and activities of farm life, including feeding animals, collecting eggs for breakfast and learning where food originates.
For more about Feather Down Farm Days USA, contact: info(at)featherdown(dot)com or visit http://www.featherdown.com.