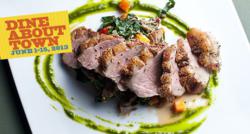 San Francisco, CA (PRWEB) May 06, 2013
Reservations are now available for "Dine About Town San Francisco" during the second half of its 12th year on June 1-15, 2013. More than 100 of San Francisco's best restaurants are participating, offering a two or three-course lunch menus for $18.95 and/or three-course dinner menus for $36.95. This pricing can represent up to a 25 percent savings off regularly priced a la carte items.
The complete restaurant list for "Dine About Town San Francisco" and reservations are available at http://www.dineabouttown.com, a website of the San Francisco Travel Association.
Dates and times of participation vary by restaurant. A la carte menus will also be available. Reservations are encouraged and may be made online at the Dine About Town website through a partnership with Open Table. Information is also available by calling 415-391-2000. American Express is the preferred method of payment for Dine About Town.
The San Francisco Travel Association is the official tourism marketing organization for the City and County of San Francisco. For information on reservations, packages, activities and more, visit our website or call 415-391-2000. The Visitor Information Center is located at 900 Market St. in Hallidie Plaza, lower level, near the Powell Street cable car turnaround.
For an insider's perspective, join more than 500,000 people who follow "onlyinsf" on Facebook and more than 50,000 who follow "OnlyinSF" on Twitter.
American Express® is the official Card partner for the San Francisco Travel Association.
San Francisco International Airport (SFO) offers non-stop flights to more than 31 international points on 30 international carriers. The Bay Area's largest airport connects non-stop with 76 cities in the U.S. on 15 domestic airlines. For up-to-the-minute departure and arrival information, airport maps and details on shopping, dining, cultural exhibitions, and more, visit http://www.flysfo.com.
# # #