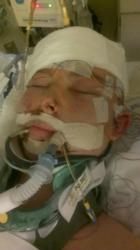 Tweet, and ask others to tweet, this message on May 4th: Help Star Wars author's son on Star Wars Day! Visit http://www.helpwolverton.com to learn more.
St. George, UT (PRWEB) May 02, 2013
On May 4th, thousands of supporters of Sci Fi and Star Wars author David Wolverton, also known for his fantasy works under the pen name David Farland, will host a book bomb and Tweet campaign to help raise urgently needed funds, required to get his son Ben into rehabilitation.
Hundreds of people will tweet on Star Wars Day, May 4th, 2013 in an effort to help Ben Wolverton, a 16-year-old brain trauma victim. Ben is the son of Star Wars author Dave Wolverton, who penned The Courtship of Princess Leia, The Rising Force, and other books. The tweets will help raise awareness and funds for the Wolverton family, who, because of pre-existing illnesses, have no insurance. Ben's medical expenses are expected to rise above $1,000,000. In addition to brain trauma, Ben suffers from a cracked skull, broken pelvis and tail bone, burnt knees, bruised lungs, broken ear drums, road rash, and pneumonia.
People can help in many ways.
First, to participate in the event, simply tweet, and ask others to tweet, this message on May 4th: Help Star Wars author's son on Star Wars Day! Visit http://www.helpwolverton.com to learn more. #davidfarland #starwarsday #helpwolverton.
Second, those that wish to donate to Ben can do so here: http://www.gofundme.com/HelpBenWalk
Third, readers can make a powerful contribution by buying and downloading David's latest book, Nightingale. Proceeds will go toward Ben's medical expenses. Nightingale (written as David Farland), has won seven awards, including the Grand Prize at the Hollywood Book Festival—beating out all books in all categories. Learn more about it here at http://www.nightingalenovel.com.
Finally, Dave has a special gift for Star Wars fans. The first e-book in his Golden Queen trilogy is free for a limited time. Internationally best-selling author Kevin J. Anderson called The Golden Queen "A grand quest across a kaleidoscope of worlds." Hugo, Nebula, and World Fantasy Award-winning author Orson Scott Card said, David Farland's Golden Queen trilogy is "the equivalent of Lord of the Rings in space. . . . Even though it's a rollicking good yarn, you experience it with all the power of real life. Farland is simply one of the best sci-fi and fantasy writers alive."
The Golden Queen follows Gallen O'Day, who is hired as a bodyguard to escort a young woman through the woods to the forbidden ruins at Geata Na Chruinn. It seems like an ordinary job—but all too soon, he finds himself fleeing for his life from creatures that seem like escapees from a nightmare—the alien dronon, led by their golden queen. With his best friend, a genetically engineered talking bear named Orick, and his girlfriend Maggie, Gallen soon finds himself tangled in an interstellar war that he never knew existed, racing across a host of worlds, confronted by a future unlike any that he had ever imagined.
The first book in the trilogy is available for free on Barnes and Noble, Smashwords, and Kobo. Readers can purchase the second and third books at a special discount at Barnes and Noble or Amazon.
Learn more about Ben and other ways you can help him at http://www.helpwolverton.com.
Courtesy of David Farland Entertainment. To schedule an interview with David or ask any questions, call Jim Wolverton at 503-623-9729.