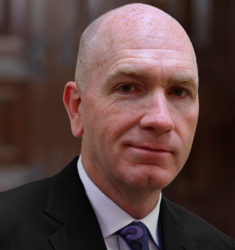 San Diego, CA (PRWEB) May 02, 2013
Millennium Laboratories, the leading research-based, clinical diagnostic company dedicated to improving the lives of people with chronic pain and/or addiction, today announced it has tapped W. Brock Hardaway, healthcare executive and growth expert, as the new CEO. The move comes as current CEO and Founder, James Slattery moves to head up the board of directors. Hardaway comes to Millennium Laboratories with two decades of leadership experience in healthcare and a strong track record of growth and performance.
"This is an exciting time for Millennium Laboratories, as we bring in Brock and his ability to leverage our high-growth brand and over 1,000 highly-skilled employees, to prepare Millennium for the future of healthcare," said Millennium Laboratories CEO and Founder, James Slattery. "I am very proud of Millennium's many accomplishments, industry leading product and service offerings, and gifted team of managers and employees. As I look to opportunities for growth, including international expansion and broadening our pipeline with new products to improve healthcare, Brock's leadership acumen in the healthcare industry will ensure our position as a leading clinical laboratory in the United States."
Hardaway was sought out for his broad management background, his ability to build and lead high performance teams, and for his strong commitment to quality and ethical standards. He most recently served as executive vice president of operations for Kindred Healthcare, which operates approximately 225 nursing and rehabilitation centers and 120 long-term acute care hospitals in 26 states, with a combined capacity of more than 36,000 beds. While there, he oversaw day-to-day operations of 47 inpatient hospitals with approximately 11,000 employees, the largest region of the largest business unit within Kindred, responsible for generating a significant portion of Kindred's nearly $6.2 Billion in annual net revenue. Hardaway was retained by Kindred post acquisition of RehabCare, where he had served as executive vice president and hospital division president, reporting directly to the CEO. In that capacity, Hardaway improved performance of hospital operations at RehabCare by more than 45 percent year-over-year and successfully took former RehabCare hospitals from an operating loss to a substantial operating profit.
Prior to RehabCare, Hardaway was president and chief operating officer of Triumph HealthCare, LLC. He led the company through an unprecedented period of growth, despite operating in a very complex regulatory environment, and ultimately played a key role in the sale of the company to RehabCare Group. He guided the acquisition and integration efforts of 16 hospitals between 2005 and 2008, expanding Triumph from a regional presence in Houston to a national brand. Prior to that, Hardaway served as regional vice president of operations at Select Medical Corporation, where he was responsible for the day-to-day operations of over 30 hospitals across the United States. Prior to Select Medical Corporation, Hardaway held positions of increasing responsibility with companies including Vencor (now Kindred Healthcare, Inc.), BlueCross Blue Shield of Texas, and Electronic Data Systems (EDS).
Hardaway holds a bachelor's degree in hospital administration from Southwest Texas State University and a master's degree in business administration from St. Edward's University Executive Program. He was previously on the board of directors for ATI Physical Therapy, Inc. and served as chairman of the board of directors for Central Texas Rehabilitation Hospital, as well as other hospital boards.
"I am thrilled with the prospects for growth for Millennium Laboratories," said Hardaway. "The company is working in areas of diagnostics and pharmacogenetics that are changing the landscape of pain and addiction management. My track record of growth in a highly regulated industry will serve the company well into the future as we launch new products and serve more communities with our groundbreaking technology and service offerings."
About Millennium Laboratories
Millennium Laboratories is the leading research-based, clinical diagnostic company dedicated to improving the lives of people with chronic pain and/or addiction. The company provides healthcare professionals with medication monitoring, drug detection and pharmacogenetic testing services to personalize treatment plans to improve clinical outcomes and patient safety. More information can be found at http://www.millenniumlabs.com.
###