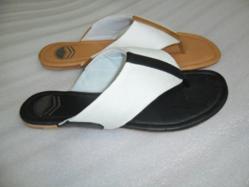 Honolulu Hawaii's Lady Ease is designing again, this time a comfortable and stylish sandal created with comfort and durability in mind.
Honolulu, Hawaii (PRWEB) May 01, 2013
Dr. Denyse Ray, aka Lady Ease of Honolulu, Hawaii, has designed a new sandal that, like her famous face masks, have been created to be comfortable, fashionable and durable, and they are debuting in Honolulu this week.
According to Winnie Peng of Shoe-Manufacturer.com:
"When Dr. Ray first contacted me in January, I was impressed that the materials she chose for her new sandals would include genuine leather outsoles, something many brands sacrifice to keep their cost lower.
"Good quality leather lasts longer than the more common synthetic outsoles, and it is breathable, meaning cooler against the skin, so you have durability and comfort.
"For the uppers, she chose fashionable, durable canvas but lined with a soft leather, once again a cooler, more comfortable, breathable and more durable material than a synthetic lining.
"But Dr. Ray is already known for combining fashion with function and durability.
"Back on 9/11, she was one of the first responders at the World Trade Center, and it was there where she first thought about the possibility for an effective face mask for every-day people, but made to actually be attractive!
"The result was her creation of EaseMask™, a facemask so effective that it was issued to competitors in the recent Olympics held in Beijing, China.
"Her masks are of special interest to people with allergic symptoms or asthma who may be especially sensitive to cold air, tobacco smoke and wood smoke, perfume, paint, hair spray or any strong odors or fumes, common cold, influenza and other respiratory illnesses, for allergens (particles that cause allergies) such as dust mites, pollen, molds pollution and even animal dander from pets. http://www.ladyease.info/
"We at Shoe-Manufacturer.com hope, we hope Dr. Denyse and the Lady Ease Collection will continue to be inspired to make more designs like these wonderful sandals and congratulate her on the arrival in Honolulu and debut of their new sandal collection."
About:
Winnie Peng is Senior Project Manager for China Product Sourcing and Marketing Ltd. (CPSM), fashion manufacturer and leading producer of footwear for independent designers and footwear importers around the world, Shoe-Manufacturer.com, and previously Senior Inspector of Quality Control and Corporate Compliance for Best Seller of Hong Kong, supplier of Europe's largest fashion retail group, Best Seller.
Contact:
Winnie Peng
email: winnie.chinaproduct(at)gmail(dot)com
Tel (USA) 1- 336-775-8615,
Tel (China) 136-6233-4753
Skype: winniethepooh9
About:
Lexis Global News (LGN) features current items of interest in business, technology, manufacturing, health and wellness, education, fashion, travel and life style. LGM is a division of Lexis Global Marketing LLC. http://www.lexisglobalnews.com/
Contact: Robert Allen
Lexis Global News
Tel 1-336-775-8617
Email: featurerseditor(at)lexisglobalnews(dot)com
Address: 931-B South Main St., Suite 154
Kernersville NC USA 27284