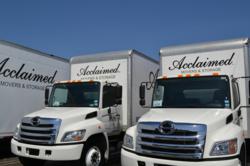 Costa Mesa, California (PRWEB) May 05, 2013
Costa Mesa's premier, luxury, residential and commercial moving company, Acclaimed Costa Mesa Movers, has just updated the materials the company uses for office moving. The company now has industrial strength boxes, and extra thick packing paper that is made from recycled materials. The new boxes can withstand great pressure throughout the move, while the new packing paper provides a greater level of adding from belongings than ever before. The materials greatly improve Acclaimed's ability to protect any equipment and materials during an office movers. In addition to the new materials, Acclaimed has also updated its trucks so that they meet the state's strict emissions regulations. Acclaimed Costa Mesa Movers is a full-service, fully comprehensive, luxury moving company.
For more than ten years, Acclaimed Costa Mesa Movers has helped homes and businesses move across the town, across the country, and across the world. The company at working in any environment, including houses, offices, apartments, restaurants, condos, retail facilities, warehouses, and more. Each of their Costa Mesa movers is a season industry veteran, who goes through regular training to ensure that they can properly wrap, pack, and then move any item. The Acclaimed packing service strengthens boxes, and includes the disassembly and reassembly of large items, as well as, the creation of custom moving crates for all flat-screen TVs, artwork, antiques, and other valuable or fragile items. All transportation is conducted by the Costa Mesa movers' fleet of top-of-the-line trucks, which run on an eco-friendly bio-diesel fuel. If storage is necessary, Acclaimed maintains space for long-term and short-term storage periods in the company's colossal, state-of-the-art, climate-controlled storage facility.
Acclaimed Costa Mesa Movers is dedicated to making lifelong customers out of each person that they help, by providing top quality services at economical rates. The company has quickly become synonymous with affordability, efficiency, and reliability in the moving industry. The update of their materials helps Acclaimed remain the premier choice for moving solutions in Southern California. When it's time to move a home or business, it's time to get a free, no-obligation quote from Acclaimed Costa Mesa Movers.