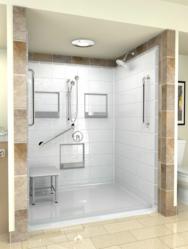 Now customers can enjoy walk in bathtubs and handicap shower stalls made locally.
New York, NY (PRWEB) May 02, 2013
National senior bathtubs supplier, Aging Safely, announces handicap shower systems that are made in the U.S.A. Customers can have confidence in this exceptional roll in shower designed for the mobility challenged, partially due to its industry leading warranty against workmanship or any type of product defect. In addition, several of the company's walk in bathtubs are also made locally.
When designing a bathroom with "aging in place" in mind, it is important to have quality products that are tested and backed up by great warranties. Not to mention for the appliance to have the functionality needed and a style that matches the bathroom décor perfectly. Aging Safely offers some of the most popular and quality brands on the market and has consultants that can help customers select the right model for their particular needs. With numerous different sizes, styles and features it is important know the many options available. As a bonus, the company also offers next day shipping on several of their handicap shower stalls, hydrotherapy walk in bathtubs and safety grab bars.
One of the more popular products offered besides the handicap shower stalls, is the warm air hydrotherapy. The walk in tubs and transfer bathtubs can come with powerful water and air jets to massage the bather. One potential advantage to a hydrotherapy walk in bathtub is that bathers don't have to add any type of chemical to the bath water. Customers interested in all natural bathing products may decide to get more information on one of these unique hydrotherapy bathtubs.
According to Aging Safely, the roll in shower stalls and walk in tubs come standard with a five foot hand held shower wand on most models. This can be a welcome accessory for bathers that do not want to stand while showering or taking a bath. The wheelchair accessible showers can also come with a thermal mixing valve, more commonly known as an anti-scalding device. This useful accessory can be installed into the roll in shower or walk in tub to help regulate the temperature of the water entering the bathing appliance.
Shoppers that are interested in a consultation or would like more information can contact an Aging Safely representative without any obligation of purchase. Additionally commercial facilities such as nursing homes, assisted living, hospitals and builders are encouraged to contact a representative for special commercial pricing.
Contact Information:
Zachary Wennstedt
1-888-779-BATH(2284)
info(at)Agingsafelybaths(dot)com