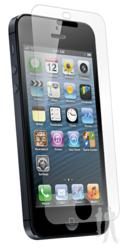 Bluffdale, Utah (PRWEB) May 02, 2013
BodyGuardz, provider of leading gadget protection products and consumer electronics accessories, announces the launch of the Universal Screen Protector Kit featuring ScreenGuardz® UltraTough®, which will be sold at Sam's Club throughout the United States where mobile devices are sold.
The kit offers customizable screen protection to fit any small electronic device screen measuring a maximum of 5.5" by 3.5". Users will purchase the kit and have the ability to cut their own protector for any device they choose. In addition to the universal protector, all purchases of the kit will include a coupon for an additional package of ScreenGuardz® UltraTough® protectors free of charge from the BodyGuardz website.
Sam's Club members can now receive three ScreenGuardz® UltraTough® protectors for the price of one, ensuring several personal devices can benefit from the premium protection that BodyGuardz is known for.
Advantages of ScreenGuardz® UltraTough® include:

Ultra-Tough & Optically Clear – Made from material used to protect automobiles from scratches that has been enhanced for mobile device protection.
Outstanding Design – Custom designed to fit each screen so you get the maximum amount of coverage and protection.
Easy Application – Can be applied dry or with patent pending gel application method (instruction pamphlet is included).
Treated with Anti-Microbial – Treated with an anti-microbial to protect the film from bacterial growth.
The Universal Screen Protector Kit will be available exclusively in Sam's Club stores and online at SamsClub.com starting May 1, 2013.
About BodyGuardz
BodyGuardz, founded in 2002, is committed to offering top-quality products and services at a reasonable price. The company prides itself in providing products, service and delivery that customers notice is a step above the rest. BodyGuardz includes the UltraTough clear skins full-body films available for hundreds of devices; ScreenGuardz, screen protectors available in multiple film types; Armor, which are custom-cut skins featuring designs for device personalization; Cases, including the customizable MyKase for iPhone 4/4S and 5, Slim for iPhone 5, The Garrison for iPad and Kindle Fire; The Sentinel; Earjax premium ear buds and more. For more information, visit: bodyguardz.com/company.