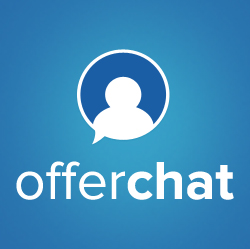 Online vendors on Prestashop can now easily integrate the Offerchat live chat widget on their stores with the release of the free Offerchat live chat module.
Miami, FL (PRWEB) May 02, 2013
Online sellers, vendors and traders active in the e-commerce platform, Prestashop, can now integrate and add a live chat widget to their e-stores or online shops through the free Offerchat live chat module for Prestashop.
The new Offerchat live chat module is optimized for the latest versions of the Prestashop e-commerce platform by a Prestatool Box developer and creator. The module was developed to provide online vendors active in Prestashop a no-cost alternative to existing live chat applications in the market.
Online chat is increasingly becoming the most preferred service customer support medium by many e-commerce site owners. The simple, one-to-one, instant exchange of messages or chats between a seller and a browsing shopper within a web store facilitates the easy flow of information between both parties.
Online shoppers can get the answers they need when inquiring about an item on the spot without resorting to emails and social networks or calling a phone number. E-commerce store managers and owners, on the other hand, are able to provide superior customer support help all throughout the buying cycle in a cost-efficient yet highly effective medium.
Modern consumers have widened their online shopping awareness as competition in E-commerce grew. Overall, they have adapted with the technological advances and have used social networks, mobile apps, QR codes, emails, and other methods to hunt down deals, get special offers, and other price advantages. They compare product price and delivery charges before they make an actual purchase.
Having a free live chat module on an web store on Prestashop or any E-commerce platform while applying the right insights on how to chat online with visiting shoppers to most effectively appeal to them will give an online business owner a better return on his or her investments.
To download the exclusive Offerchat live chat module for Prestashop, visit the PrestaShop Forum.
About Offerchat
Offerchat is a free live chat for websites specifically designed to help online businesses increase their conversions and sales. It's an easy to add online chat software with full features yet zero charges. Offerchat is brewed to perfection at Click Labs, Inc. a company based in Cebu City, Philippines. The company specializes in driving search marketing and social media traffic, social web app development and conversion optimization. Each product or service specifically helps small/medium website owners increase online visibility and improve online sales.
###