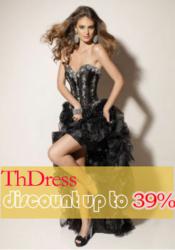 ThDress.com Offers Great Discounts on its Vintage Wedding Dresses
(PRWEB) May 02, 2013
Today, ThDress.com launched a wedding dress promotion with a discount up to 55% off to help people buy wedding dresses at affordable prices. The promotion covers all its vintage wedding dresses.
Yesterday, ThDress.com released its new styles of vintage wedding dresses; these new dresses sell well in the European market and got good reviews from customers. Today, the company offers great discounts on these new dresses to meet customers' needs.
Vintage wedding dresses can help girls to become more attractive and lovely. These kinds of dresses follow fashion trends and stay true to classic and unique tastes and styles. These new wedding dresses have a variety of styles, like strapless wedding dresses, one-shoulder beaded dresses, a-line sleeveless dresses, and so on.
In addition, the company offers similar discounts on its thousands of different styles of wedding dresses, such as short wedding dresses, princess wedding dresses, beach wedding dresses, mermaid wedding dresses, and more.
About ThDress.com
Established in 2009, ThDress is a manufacturer specialized in the development and production of women's clothing such as wedding dresses and party dresses for girls. All of our products comply with international quality standards and are greatly appreciated in a variety of different markets throughout the world.
View more information about wedding dresses at http://www.thdress.com