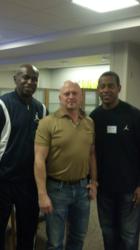 San Diego, CA (PRWEB) May 02, 2013
It's been thirty years in the making; David Gergen, an expert in oral appliance therapy and owner of Gergen's Orthodontic Lab, has found an interesting and conducive way to raise awareness of the deadly disorder, obstructive sleep apnea OSA. After treating over 150 NFL greats, PPHA teaming up with the likes of Derek Kennard, Mike Haynes, Tony Dorsett, Warren Moon, Erik Dickerson, Marcus Allen, Roy Green, Dave Krieg, Mark Walczak, Larry Fitzgerald and Carl Eller to speak with fans who suffer with snoring and sleep apnea has quickly become an event worth talking about. Creating Pro Player Health Alliance has brought a new wave of awareness to the public by NFL greats sharing personal struggles, experiences and losses with sleep apnea.
"The Pro Player Health Alliance is an incredible organization out to help those who suffer from sleep apnea. Working with sleep apnea patients, I know how easy it can be to treat this disorder and our organization has already had a huge positive impact on many" mentions David Gergen, Founder of Pro Player Health Alliance. The organization has held several free events around the country to teach the public about the dangers of snoring and sleep apnea, as well as treatment options available. "HOF CB Mike Haynes and former San Diego Charger Mark Walczak have been a driving force in our momentum as his company is use to putting together seminars and events on sleep apnea awareness. Together with the former NFL players, we are able to draw a captive audience and offer some free home sleep testing to all attendees to ensure everyone will get tested and seek treatment!"
A majority of attendees report snoring, morning headaches, daytime fatigue, irritability, high blood pressure, hypertension and diabetes. These are all serious health issues that are linked to sleep apnea. Derek Kennard, former NFL Lineman can relate to many members in the audience. "I would wake up tired, blood shot eyes, irritable and I found it very hard to focus during practice. All I could think about was sleeping, I knew I had a serious problem" reports Mr. Kennard. Mr. Kennard lost his brother Donald Kennard in 2009 when he passed in his sleep due to sleep apnea. "I wish I met David Gergen sooner; I feel he could have saved my brother's life by making him an oral appliance for his sleep apnea."
To follow Pro Player Health Alliance and find out about upcoming events, like them on Facebook. The next event will be sponsored by Dr. Bradley Eli, one of the country's most experienced and well-known doctors. Registration for this event can be found at http://pphasandiego.eventbrite.com/
Event Details
Date: May 21, 2013
Time: 7:00 PM
Location: Scripps Schaetzel Center, 9890 Genesse Ave La Jolla, CA
About Pro Player Health Alliance
The Pro Players Health Alliance (PPHA) is an organization dedicated to helping former NFL players, through providing testing and treatment options for those who suffer from sleep apnea. In addition, the PPHA is dedicated to integrating education and raising sleep apnea awareness, in a fun and memorable way. In addition to the campaign, the PPHA is dedicated to testing and getting people treated who suffer from sleep apnea. The PPHA was created by David Gergen, President of Gergen's Orthodontic Lab and Former NFL legends.
About David Gergen
David Gergen, CDT and President of Pro Player Health Alliance, has been a nationally respected dental lab technician for over 25 years. He received the award for "The Finest Orthodontic Technician in the Country" given by Columbus Dental in 1986. He also has been appointed chair of the dental wing of the American Sleep and Breathing Academy a national interdisciplinary academy dedicated to sleep training and education with over 60,000 members. David rolled out of bed on September 12, 1981 and had his career "ah ha" moment. He knew he was going to be an orthodontic technician and he knew he was going to help people all over the country to help treat their sleep disorders in partnership with their dentists. He has worked for some of the pioneers in the orthodontic and sleep dentistry fields. He was the personal technician for the likes of Dr. Robert Ricketts, Dr. Ronald Roth, Dr. A. Paul Serrano, Dr. Clark Jones, Dr. Harold Gelb, Dr. Joseph R. Cohen, Dr. Rodney Willey, Dr. Allan Bernstein, and Dr. Thien Pham. One of his proudest achievements is receiving The National Leadership award for Arizona Small Businessman of the Year in 2004.