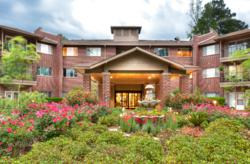 "Living at PineCrest allows residents the opportunity to enjoy their hobbies or learn new ones. Our gardening event is a great way to experience the PineCrest lifestyle." Rita Bevers, PineCrest Marketing Director
Lufkin, TX (PRWEB) May 02, 2013
A spring Master Gardening event will be held at the PineCrest Healthy Living Community at 1302 Tom Temple Drive in Lufkin on Tuesday, May 7, from 10:30 a.m. to 1:00 p.m. The event will feature expert speakers and how-to demonstrations on a variety of gardening topics. The event is open to the public.
Dr. George Thannisch, a local retired pediatrician and accomplished Master Gardener who now resides at PineCrest, will share his tips for producing award-winning vegetables, with particular emphasis on container gardening. Dr. Tannisch says he has "a special connection with the universe when gardening. It's empowering and fulfilling to have a part in Mother Nature's creations."
Thannisch's produce entries won many blue ribbons over the years at the Angelina County Fair. Many local residents are familiar with Thannisch, whose additional accomplishments include establishing Thannisch Station at the Ellen Trout Zoo. He is also known by many for his community service as a member of the Lufkin Lions Club, where he logged a perfect attendance record over a 55-year membership. At PineCrest he is also known for his humor and occasional use of green food coloring on his thumb to garner smiles.
Other speakers include Lisa Mason, a Texas Master Florist, and Shirley Kirk, both from Alene's Florist. The two will present ideas and techniques for designing floral arrangements for events and home décor. Two Master Gardeners from the Angelina County Master Gardeners Club—Felicia Dark and Vickie Boren—will share their wide-ranging knowledge of horticulture, with special emphasis on the art and science of cultivating native plants.
The event will take place on the PineCrest campus. Space is limited, and reservations are recommended. To reserve a space, call 888-926-9124. To learn more about PineCrest, visit http://www.mrcpinecrest.org.
ABOUT PINECREST:
PineCrest Healthy Living Community is an affiliaite of the Methodist Retirement Communities (MRC), a not-for-profit provider of senior housing and health care services in Texas, with campuses in Lufkin, Bryan and Texarkana, League City, and Huntsville. MRC has developed admission criteria without regard to race, color, national origin, religion, sex, handicap, age or political beliefs.