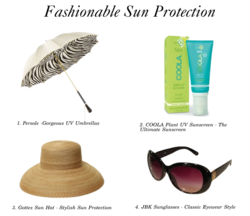 Celebrate mom this mother's day with a gift of fashionable sun protection
Kentfield, CA (PRWEB) May 02, 2013
SolEscapes.com, makes it easy to find fashionable sun protection for all moms this mother's day by creating a special Mother's Day gift guide section on their web site.
The summer sun is fun but can but can be very damaging. The best defense against the harmful sunrays is to stay out of the sun but as this is not very practical nor a great way to spend the summer; sun protection products save the day. SolEscapes.com has a great selection of stylish yet functional sun protection accessories that are trustworthy from established leading brands in the sun care industry. Product listed as 50+ UPF have been tested and rated for ultimate protection.
The SolEscapes team has picked out 4 of their favorite sun protection Mother's Day gifts.
1. Persolé -The Chic ShadeTM – A stunning sun umbrella for the modern sophisticated woman. Not only gives the user protection from the UVA and UVB rays but also allows for portable shade. It's fantastic for all those hot summer days when watching the kids sports game, attending graduations or just out and about. Persolé sun umbrellas are ultra chic and makes for a great fashion accessory. It comes in great colors: purple ombre, cream/zebra and cream/leopard.
2. COOLA Plant UVTM for body and face – This natural plant sunscreen nourishes you skin and protects it from the harmful UV rays. 30 SPF and broad spectrum giving both UVA and UVB protection. The formula is preservative free and made with 70% organic ingredient.
3. Gottex Lida Lampshade Straw Hat - This gorgeous 5" wide brimmed 100% Milan straw sun hat from Gottex comes in 6 colors: Natural, Black, Navy, Royal Blue, Violet and Tangerine. The Lida adds drama and glamour to any outfit. And the versatile style is great for beach, poolside or just anytime in the sun. The Gottex hat line is one of the most fashionable sun hat collections on the market with hats styles ranging from dramatic wide brimmed ribbon/ straw combinations in vibrant colors to sparkly cloche hats. They are designed to be fashion forward yet comfortable to wear. Most of the hats are rated 50+ UPF for a maximum sun protection factor.
4. JBK Sunglasses – These classic round style sunglasses inspired by style icon Jackie O are a must have summer accessory. Sunglasses are essential for protecting the health of the eyes. Comes in black, tortoise and navy all with elegant gold-tone Greek design on the temples. Black and navy have gradient smoke lenses and tortoise has gradient brown shade lenses.
SolEscapes.com offers a fabulous selection of sun protection and vacation accessories for beach, resort and cruise focusing on functional products with style for all vacation and summer needs. SolEscapes offers personalized service, high quality products and fast affordable shipping. Merchandise including all beach hats is carefully and beautifully packaged to ensure a perfect arrival. For more information please visit SolEscapes.com You can also connect with SolEscapes on Facebook, Twitter and Pinterest.