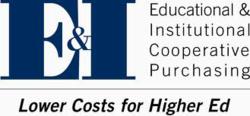 Shaw Sports Turf is a recognized industry-leader that brings instant credibility as part of the Berkshire Hathaway family of companies.
Calhoun, Georgia (PRWEB) May 02, 2013
E&I, the world's largest educational purchasing cooperative, has announced a five-year contract with Shaw Sports Turf.
With nearly 3,000 institutional members and an aggregated annual spend of $1.8 billion, E&I is the member-owned, not-for-profit purchasing cooperative focused exclusively on education. The Cooperative uses the combined purchasing power of its members to provide competitively awarded contracts for a range of products.
Shaw Sports Turf is one of the world's leading manufacturers of custom-engineered synthetic turf systems. The company has installed practice and stadium fields on more than 1,000 playing surfaces for all types of sports and recreational activities, including many major collegiate programs such as Vanderbilt, Georgia Tech, LSU and the University of Arkansas.
"Shaw Sports Turf is a recognized industry-leader that brings instant credibility as part of the Berkshire Hathaway family of companies," said Tom Fitzgerald, E&I CEO. "It is important for us to align ourselves with partners that can provide our members with the highest quality products and services, at the best pricing. Shaw Sports Turf brings those qualities to the educational marketplace, which continues to grow as a purchaser or synthetic turf products."
In addition to its successes in higher education, Shaw Sports Turf has installed practice and game fields for the world champion Baltimore Ravens, San Francisco 49ers, New York Jets, Cleveland Browns and others. Torrey Smith, a wide receiver for the Ravens, is a spokesman for Shaw Sports Turf.
About E&I
Established in 1934 by members of the National Association of Educational Procurement (NAEP), Educational & Institutional Cooperative Purchasing (E&I) is a buying cooperative that serves education institutions from K-12 through higher education. E&I uses the combined purchasing power of more than 2,800 member institutions to lower costs on a wide range of products and services. The organization provides members with access to a diverse portfolio of high quality national and regional contracts from best-in-class suppliers. E&I's member driven competitive solicitation process has been validated by the National Institute of Governmental Purchasing (NIGP). For more information, please go to: http://www.eandi.org.
About Shaw Sports Turf
A wholly-owned subsidiary of Berkshire Hathaway Inc., Shaw Industries is a full flooring provider to the residential and commercial markets. Shaw supplies carpet, rugs, hardwood, laminate, resilient, and tile/ stone flooring products, as well as synthetic turf. Shaw Sports Turf is one of the leading synthetic turf companies in North America and has represented quality and innovation for more than two decades with over 1,000 successful installations, including an impressive list of high-profile field installations. For more information please visit http://www.shawsportsturf.com, call 866-703-4004 or find us on Facebook.