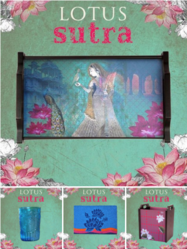 "Lotus Sutra aims to bring the age-old charm that the lotus is known to exude. There is this quality of beauty and peace that is associated with lotus, and with this collection we aim to spread these qualities into our customer's homes",says Krsna Mehta
(PRWEB) May 03, 2013
Celebrated designer Krsna Mehta's contemporary-chic home décor, lifestyle, and personal accessories brand, India Circus, has introduced Lotus Sutra, a collection that celebrates the lovely & elegant lotus on http://www.indiacircus.com. The lotus is synonymous with beauty, purity, and also has some significant references in Indian mythology and history. India Circus now brings the elegant and eternal lotus to the homes of its customers with Lotus Sutra.
The magnificence of the lotus is further enhanced on the pretty tumblers and stem glasses that have the plant's design embossed on it. Delicately-placed lotus flowers embellish the table mat and napkin sets. The multi-utility bins are also given a floral and fantastic twist with the presence of the pretty lotus. Products, such as the serving trays, cushion covers, wall clocks and wall art, to name a few, see the lotus plant in mythological and Moghul milieus.
Mr. Krsna Mehta, Design Director, India Circus, elaborates on the latest collection. He notes, "Lotus Sutra aims to bring to homes that age-old charm that the lotus is known to exude. There is always this quality of beauty and peace that is associated with the lotus, and with our latest collection we aim and aspire to spread these qualities into the home of our loyal customers. While in some of the products, such as cushion covers, we have retained the lotus' ancient style and feel, in the others, such as the wall art pieces, the flower is given a contemporary feel by setting it amidst a modern-day background."
The Lotus Sutra collection by India Circus has eclectic and artistic prints of the lotus plant on wall art pieces, embossed and carved tumblers, embossed stem glasses, coffee mugs, table mat and napkin sets, table runners, tissue box holders, serving trays, MDF coasters, cushion covers, multi-utility bins, magazine racks, doormats, posters, visiting card holders, photo frames, bags and laptop sleeves. You can shop the entire range on their online store http://www.indiacircus.com .