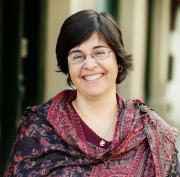 San Francisco, CA (PRWEB) May 02, 2013
Aperian Global, a leading provider of consulting, training, and web tools for global talent development, today announced that Anita Zanchettin, managing director of global talent strategy at Aperian Global, is scheduled as the keynote speaker at the 2013 Go Global Annual Leadership Conference presented by Gaya Consultants, being held May 7-8, 2013 in Ramat Hasharon, Israel.
The keynote address, "Global Trends and Key Leadership Behaviors: Unique Characteristics of Successful Global Leaders," is based on extensive worldwide research by Aperian Global with exemplar leaders from a wide range of diverse national origins, organizations, and business roles. The study yielded ten leadership behaviors that are the first of their kind to actually pinpoint the special skills and behaviors of successful global leaders.
Go Global is an annual, two-day event for HR, training development, organizational development, and recruitment managers who are interested in the global work world. It is hosted by Gaya Consultants, one of Israel's leading organizational consulting firms.
"The Go Global conference is a thorough and even profound examination of leadership in the 'flat world,'" according to Amnon Katz, CEO of Gaya and a clinical psychologist and consultant with extensive experience in global organizational development. "With their many years of independent research and breadth of consultancy across all corners of the globe, Aperian Global is uniquely positioned to address the latest global leadership trends in such a context."
The first day is a workshop facilitated by Katz and Zanchettin. Intended for senior global HR managers, this workshop will be a joint investigation of challenges such as differences in distance, time, and culture faced by employees of global organizations. It will be presented in English and will feature best practices for addressing these challenges. Zanchettin's keynote follows on the second day with a conference featuring CEO Amnon Katz and Rolnic Eran, Ph.D, from Tel Aviv University.
Zanchettin said, "Aperian Global is delighted to be participating in this preeminent conference. Partnering with Gaya Consultants provides us with the very interesting opportunity to meet, discuss, and share experiences with leading Israeli organizations."
Those interested in attending Go Global should email Gaya at Office(at)gaya-cons(dot)com, or phone on 09-9508172.
# # #
About Gaya Organizational Development
Established in 2001, Gaya has rapidly become one of Israel's leading organizational consulting firms. We take a dynamic, integrative systems approach to analyzing the processes that take place within the organization in order to improve and streamline its on-going operations. Our aim in every organizational intervention is to connect to the organizational reality and to define clearly the every-day issues and problems which managers and employees face. With this knowledge we then work to bring about real change in the way the organization's personnel perceive themselves, the tasks they face, and their routine interaction with colleagues. For more information (in English), visit http://eng.gaya-cons.com.
About Aperian Global
Aperian Global provides consulting, training, and web tools for global talent development. Aperian Global's flagship product, GlobeSmart®, is a tool that has had over 400,000 registered users in 125 organizations worldwide and provides ready access to detailed information on how to conduct business effectively with people from around the world. Founded in 1990, the company has partnered with our clients in more than 85 countries and has worked with more one-third of the Global Fortune 100, delivering over 2,000 workshops in 25 languages in the last year. The company has offices in Bangalore, Boston, Kolding, Paris, San Francisco, Shanghai, Singapore, and Tokyo. For more information, visit http://www.aperianglobal.com.