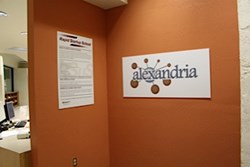 The Alexandria Network promotes enhanced utilization of our library assets and is an innovative way to encourage entrepreneurialism, eventually leading to better opportunities for our community
Scottsdale, AZ (PRWEB) May 02, 2013
The Alexandria Co-working Network will officially launch in Scottsdale, Arizona, today with the opening of its first collaboration space at the Scottsdale Civic Center Library.
Earlier this year, ASU Venture Catalyst, the startup unit of Arizona State University, along with the Scottsdale Public Library system, announced the creation of the Alexandria Co-working Network, a new initiative that brings together inventors, problem-solvers, entrepreneurs and small businesses in collaboration spaces in community libraries across Arizona.
The network, designed to provide support for Arizona's innovation economy, will open the doors of its first collaboration space, called the Eureka Loft, at a 4 p.m. grand opening ceremony at Scottsdale's Civic Center Library location. The ceremony, which will feature tours of the space and remarks by Scottsdale Mayor W.J. "Jim" Lane and ASU Senior Vice President for Knowledge Enterprise Development Sethuraman "Panch" Panchanathan.
"Scottsdale is delighted to be the first to partner in this exciting joint venture with ASU Venture Catalyst," Lane said. "The Alexandria Network promotes enhanced utilization of our library assets and is an innovative way to encourage entrepreneurialism, eventually leading to better opportunities for our community."
The Alexandria Co-working Network's collaboration spaces combine elements of co-working spaces with expert library fact-finding services and ASU startup resources in one place where innovators, entrepreneurs and others can gather to share ideas and work together. The collaboration spaces, which are free and open to the public during normal library hours, serve as places for people to connect, collaborate and network. Local library staff will act as champions, offering information resources to their community of innovators. Each library champion has gone through ASU's Rapid Startup School, an introduction to all things entrepreneurship.
The Alexandria Co-working Network is named after the world's first great library in Alexandria, Egypt, which was established in the third century B.C. The library at Alexandria, and the other libraries in antiquity that followed it, were not just about books; in essence, they were society's first co-working spaces and knowledge hubs. The Alexandria Co-working Network is designed to help the modern library offer similar collaboration spaces with an emphasis on innovation and entrepreneurship, offering the community a major "public good."
"This is the role of the library in a new economic, social and learning landscape," said Carol Damaso, Director of the Scottsdale Public Library. "We are partnering on this innovative concept to provide a cooperative learning space and programming that combines the proven success of ASU entrepreneurship programs with the library as a known space for continuing education for all people."
The Eureka Loft at the Scottsdale Civic Center Library, named after the famous "Eureka" moment of inventor Archimedes (who spent time in the original library at Alexandria), will be the first of many co-working locations that will help grow the innovation economy in Arizona. Each library that joins the Alexandria Co-working Network will have the opportunity to create its own space designed to meet the unique needs of the community it serves. In addition to creating these co-working spaces, each library will have the opportunity to name its space, creating a distinctive identity for all library locations within the network.
The long-term objective of the Alexandria Co-working Network is to support the hundreds of inventors, problem-solvers, entrepreneurs and small businesses from across Arizona that need help to advance their ideas but don't currently have access to the necessary tools. The network provides access to resources that people can use to move their ideas forward, including experienced mentors from ASU's mentor network, live-streamed "pracademic" classes from ASU's Rapid Startup School, and physical and digital assets from the libraries. This will ultimately spur economic development and create new products, businesses and jobs in Scottsdale and across the state.
"The Alexandria Co-working Network leverages the many entrepreneurship resources of ASU, including the vast mentor network we have built at ASU SkySong, to support innovators outside of the traditional startup spaces in Arizona," said Gordon McConnell, Assistant Vice President of Innovation and Entrepreneurship in the Office of Knowledge Enterprise Development at ASU. "Our vision is to build on the successful launch of our first space and expand the network to provide vital startup support to communities throughout Arizona and eventually further afield."
The Alexandria Co-working Network is rapidly expanding, with several additional locations already planned to launch this year. ASU is working with the cities of Phoenix and Tempe regarding the expansion of the Alexandria Network. The network is also interested in hearing from individuals, mentors and organizations that want to be a part of supporting this initiative. More details on the resources, classes and support services will be announced at the Scottsdale grand opening ceremony and also will be available online.
For more information on the Alexandria Network: http://www.asuventurecatalyst.org/p/content/alexandria-network
To contact us about volunteering or possible additional locations, please contact Tracy Lea at tracy.lea(at)asu(dot)edu.
----Ends----
Media Contact:
Meagan Garrett
Marketing and Communications Manager
ASU SkySong,
Office of Knowledge Enterprise and Development, Arizona State University
E: meagan.garrett(at)asu(dot)edu
P: 480-884-1814
About ASU Venture Catalyst (http://asuventurecatalyst.org/p/):
ASU Venture Catalyst equips high potential startups for success. The Catalyst, a joint effort between the Office of Knowledge Enterprise Development and Arizona Technology Enterprises (AzTE), assists university students, faculty and staff, as well as local and global companies, with launching startups or accelerating existing ventures. Based at ASU SkySong, The Catalyst offers investor connections, technology road maps, go-to-market strategy consulting, mentoring opportunities, and several other programs and services, all designed to identify and develop investment-grade companies.
About the Scottsdale Public Library System (http://library.scottsdaleaz.gov/):
Scottsdale Public Library serves the community with high quality service and materials. The five library locations are known for their distinctive architecture, innovative approaches to meeting customer needs and a 99 percent customer service satisfaction rate.