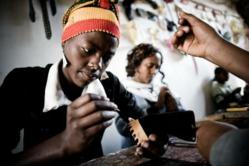 "This donation is critical to giving more impoverished women the tools they need to lift themselves out of poverty. We know from past experience that it will have significant impact in their lives," states PCI CEO George Guimaraes.
San Diego, CA (PRWEB) May 03, 2013
PCI (Project Concern International) has launched a global fundraising campaign in support of its Women Empowered (WE) Initiative. The initiative was seeded with $600,000 from three families and accelerated by a contribution of $2,000,000, the largest private donation in PCI's history. Initiated in 2011, the WE Initiative features a groundbreaking economic development model that gives impoverished women more control over their future. PCI believes that women are the solution to poverty, poor health and vulnerability and through WE, women can create social and economic empowerment for themselves, their families and their communities. PCI's goal is to integrate WE into programs in each of the 16 countries in which it operates, engaging 150,000 women by 2014, and one million women worldwide over the life of the program.
The public campaign launched on May 1st, and includes a website (http://www.pciglobal.org/we) with stories of the program participants, and testimonials of the impact it has had in their lives. Thousands of women have been inspired to participate in the savings groups and start their own businesses. Mauricia Lauros is a 54 year-old participant from Guatemala and mother of 12 who started selling produce because of a loan from the group. She states, "It is never too late to achieve our dreams. This group and the members motivate and support me so that I can achieve my goals."
The private gift will accelerate the expansion of Women Empowered within four of PCI's active countries, add key personnel, and enhance current impact measurement tools. The program is currently being implemented in Guatemala, Bolivia, Ethiopia, Botswana and Malawi, with current savings group membership of over 20,000 women. Preparations are in place to launch additional programs in Liberia and the United States in mid-2013. "This donation is critical to giving more impoverished women the tools they need to lift themselves out of poverty. We know from past experience that it will have significant impact in their lives. We're grateful to these donors for their passion and support for this powerful, proven program," states George Guimaraes, CEO of PCI.
PCI has built this program based on learning from several village savings and loan programs, incorporating its own Lives Changed Indices for measuring overall change in people's lives as a result of the program. The indices measure the collective impact across key categories of income, education, health, social capital and gender equity. PCI's model empowers poor households economically and socially, making social empowerment a core focus and a measurable purpose of the groups. Early data shows that 73% of the participants surveyed felt empowered to change their lives as a result of participating in the program, compared to only 18% before participation. "In addition to economic empowerment, results achieved with regard to social capital in the community and feelings of self- efficacy in women are as impressive as the economic components," quoted Dr. Barbara Weigand, final evaluator of PCI's BELONG Program (an early platform for PCI's savings group methodology). The savings groups are autonomous and self-managed, and PCI staff conducts ongoing training including saving and credit management, business skills, bookkeeping, leadership, conflict management and social issues.
The May campaign launch also includes a salute to mothers contest on the WE Facebook page, where PCI is giving away free round trip Southwest Airlines tickets to nominated moms. Visit https://www.facebook.com/pci.we for details.
#########
Celebrating its 50th anniversary in 2011, PCI (Project Concern International) is an international health, development and humanitarian assistance organization, operating in 16 countries worldwide. PCI is dedicated to saving lives and building healthy communities around the globe, benefiting over 6.7 million people annually in Asia, Africa and the Americas. Funded by federal grants and private support, PCI's current annual budget is nearly $50 million and the organization has 600 employees worldwide. PCI's headquarters are located in San Diego, CA and also has an office in Washington, DC and a Seattle, WA representative.