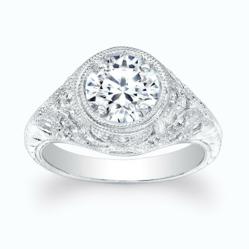 Los Angeles, CA (PRWEB) May 03, 2013
Engagement Couture, known in the California jewelry district for offering stunning and affordable engagement rings, now has an online portal designed exclusively for optimum jewelry viewing. The new Engagement Couture website features a simple navigation menu for category pages filled with large, easy-to-see thumbnails of each jewelry item. When users click on a specific piece of jewelry, they emerge on a clutter-free page with a full description of the item as well as a larger image, which viewers can zoom to view the exquisite details of the piece. Engagement Couture hopes its clientele will enjoy having greater, unfettered access to each gorgeous engagement ring available on the new website.
Engagement Couture's Edwardian Engagement Rings – The Edwardian era arouses expectations of ornate filigree in an array of precious metals, and Engagement Couture meets these expectations with style and elegance. These vintage Edwardian styles in silver, platinum or gold are the perfect way to express undying love and will become a cherished keepsake to pass down through the generations. Engagement Couture will tailor its Edwardian engagement rings with colored gemstones or diamonds to meet the wearer's personality and unique sense of style.
Engagement Couture's Antique Engagement Rings – Nothing evokes the romance of bygone days like an antique engagement ring, and Engagement Couture's selection remains unmatched by other jewelers. Under Engagement Couture's guidance, the magic of timeless beauty combines today's stringent manufacturing techniques perfectly to create a romantic symbol of love any lady would love to wear. Like its other engagement rings, these antique creations can be customized with an array of precious metals, diamonds and colorful gemstones.
About Engagement Couture:
With its mission of enduring excellence and uncompromising attention to detail, Engagement Couture rests on a solid foundation of expertise in the jewelry design and diamond industry. The company's unique engagement ring designs meet the needs of all couples embarking on a long term relationship, from the fun and flamboyant to the romantics who love old-age elegance. Engagement Couture invites jewelry-lovers the world over to visit its new website at http://www.engagementcouture.com and browse its extensive lines of fine engagement rings.