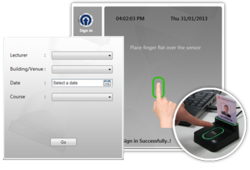 London, UK (PRWEB UK) 3 May 2013
BQuTMS, a time management software provider, exhibited their student attendance management software BQuSAMS at the Student Records Officers Conference (SROC) recently. They exhibited both the software and discussed the cost benefits of deploying a software system for tracking student attendance.
The BQuSAMS system has been designed specifically to support Higher Education institutions to comply with Home Office requirements for Tier 4 licence compliance, managing and evidencing their student's attendance and engagement. The system delivers fast and reliable information on a cost effective basis, offering outstanding value for money.
The University of Huddersfield delivered an analysis of their experience of implementing a Student Attendance Management System and the key benefits they have accrued in the first year. Most noteworthy is their improved student retention, which has seen 300 students who the university say would normally have exited early, staying on to complete their studies. This produces enhanced annual revenues of £3m, as a direct result of an effective Student Attendance Management System.
An effective Student Attendance Management System (SAMS) can deliver enormous benefits to a University and all of its stakeholders.
Although they may not immediately view it in this light, the biggest beneficiaries are the students. Academic and administrative staff also experience great improvements in the way they are able to work and the results that are subsequently generated in both Student Attainment and the financial performance of the university.
Most institutions would need to consider one or more of the following factors when gathering student attendance data;

How many people are involved?
How many departments run their own systems?
How many hours of staff time are taken up?
How many spread sheets are floating around?
How much academic staff time is spent taking registrations, checking headcounts, carrying out spot checks, recording and analysing attendance data for their own purposes?
How quickly is reliable data available to be able to make informed decisions?
A holistic view delivers an effective integrated system that works across an entire university, delivers the information needed to more effectively support students, frees up the staff time so that they can actually add value, ensure Tier 4 compliance, increase revenues and reduce costs.
The example of University of Huddersfield's increase in revenue is between £2.7m and £3m per annum shows a direct result of having information available in real time so that staff can quickly identify where additional support and/or encouragement are needed with individual students, who might otherwise just slip through the net and drop out of their course early.
Any institution holding a Tier 4 licence has to satisfy the Home Office requirement that they have reliable systems in place to monitor student Engagement and to be able to take appropriate action when the need arises. They are also required to implement an attendance management policy stating how the process will work within the university.
As a result of these requirements, many universities are considering their best way forward so that they can ensure compliance and retain and grow the vital revenues generated from overseas students.
Whilst this is a very important driver for considering student attendance management, there are other very important aspects that also need to be considered, to ensure that the best possible solution is put in place, to gain the best possible outcome.
Correlation between student attendance and attainment: There is growing evidence of a definite correlation between student attendance and attainment. In an increasingly competitive Higher Education market, student success rates and subsequent employment are a key differentiator. Better outcomes lead to an enhanced reputation and increased numbers of new students in the future.
Improved student retention: Student retention is another area that has great potential for improvement. The sooner a student exits prematurely, the greater is the revenue loss and the gap is extremely difficult, if not impossible, to fill. Effective attendance management can enable staff to quickly identify where when a student is in need of additional support or encouragement.
The most successful system implementation takes place where all parties see the benefits of the new system, there is clear commitment and leadership from senior management and an organisational 'buy-in' from all faculties and departments. This can be engendered through effective research and genuine consultation on the best way forward, taking views into account to create a future vision of what a successful system looks like in practice.
BQuSAMS is an ideal system that makes the most of existing resources. Utilising the very latest technology to deliver an efficient and cost effective system, it provides the tools to deliver the benefits described. BQu provide an unrivalled service of information, guidance and system implementation to ensure your university gets the very best results.
BQuSAMS is one of the best and most cost effective biometric cloud-based solutions available to the UK University sector to help in maintaining their Tier 4 licence. Further details are available at http://www.bqutms.com/