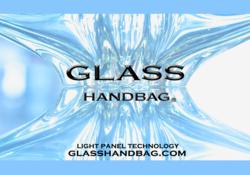 Appearing on Wendy was a shining moment for our brand. We are so excited by the opportunity to showcase our brand.
New York, NY (PRWEB) May 02, 2013
On April 26th, Glass Handbag's The RAVE evening clutch in both silver and gold were exuberantly displayed by Wendy Williams to her studio audience. Wendy gave a great backstory while introducing the handbags with integrated light system. Wendy Williams is a hugely popular daytime talk show seen by millions each day and rebroadcast on BET at night.
In 2008, the Fox Broadcasting Company picked up rights to the show which simultaneously airs on TV stations covering more than 95 percent of the United States and also repeats on BET who started to rebroadcast the show in 2009.
"Wendy" Finishes 4th among key women demographics ages 25 to 54 in a crowded metered market talk show field, posting dominant gains each month.
The Wendy Williams Show is taped live in New York and features Williams' distinctive and entertaining personality, as well as a diverse mix of celebrity guests from television, film, music and sports. Segments include "Ask Wendy," during which she offers real advice to audience members looking for solutions to problems, and "Hot Topics," where she delivers her authentic take on the juiciest celebrity gossip. The Wendy Williams Show is produced and distributed by Debmar-Mercury.
With a patent from the World Intellectual Property Organization (WIPO) already in effect and a United States patent application now published, this amazing exclusive invention is the brain child of female inventor Tamara Leuty. Her company, Glass Handbag, was founded to exclusively produce these lighted interior designer handbags. The luxury designer handbag brand adds luxury and elegance to everyday life. The luxury handbags allow any women to feel like a fashionista, ready to take on the world with her plush and polished handbag.
Upcoming handbag television appearances for Glass Handbag also include two popular TV series'. The company is also confirmed to be in the hands of Elena Ramos on Dallas in an upcoming episode. The star studded remake of the 1980's original on TNT. These designer handbags are also confirmed to be used by character Martha (Susan Sullivan) in Castle in the upcoming season on ABC and TNT. Glass Handbag is also scheduled to be released on Lifetime the movie Squatters (2013) with Richard Dryfuss and Nancy Travis.