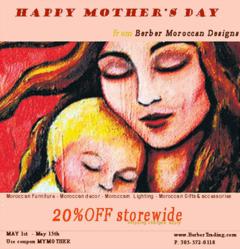 According to Berber's spokesperson Miss Bety, the company wanted to offer a good discount on all their products which will help customers save more when they get a gift for their mothers, friends or themselves during the promotion period
Miami, FL (PRWEB) May 04, 2013
Berber Trading recently launched their Mother's Day 2013 promotion in conjunction with the worldwide celebration honoring mothers around the world. The much anticipated promotion will run from the 1st to the 15th of May 2013 offering up to 20% discount on store wide products. The discount will apply when customers key in the coupon code (MYMOTHER) when they are checking out online before making payment.
According to Berber's spokesperson, Miss Bety, the company wanted to offer a good discount on all their products which will help customers save more when they get a gift for their mothers, friends or themselves during the promotion period.
For those who do not really know what to get as gifts, the company has quite a range of recommendations. These range from colorful Moroccan tea glasses to unique ash trays and Aladdin's lamp. Those who are planning to do some interior design or home decoration will be pleased with Berber's range of Moroccan lamps, Moroccan furniture and décor.
Customers who are looking for wedding favors and gifts will be able to find quite a number of items like Moroccan candles, Moroccan poufs, Moroccan bedding and Moroccan tagines which will make excellent gifts. Not only are these products unique but they reflect the artistic culture and excellent workmanship which is of good quality.
Customers could view the wide range of Moroccan themed products which are sourced from Morocco and different parts of the world at http://www.BerberTrading.com or contact the company at 305-572-0118. Berber Trading is located at 2622 North Miami Avenue, FL 33127 in Miami, Florida. Store opening hours are from Monday to Saturday, 11.00am to 6.00pm EST.