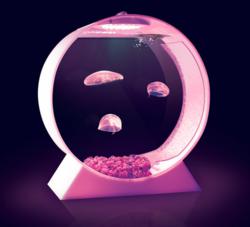 Art and Jellyfish combined
Sydney, Australia (PRWEB) May 02, 2013
Aquariums are often used as decorative pieces in hotels, restaurants and homes. Aquarium producing company 'Jellyfish Art' have produced an aquarium that is simple and affordable, but also intriguingly stylish and attracts the attention of anyone that casts eyes upon it.
A multicoloured remote controlled LED light in the tank can be set to automatically routinely change colours. The light is cast onto the jellyfish and their gelatinous consistency illuminates magnificently. These tanks are a captivating and educational additive to any bench or desktop, where the owner is educated on how to care for marine animals.
Moon Jellyfish are the most common temperate species to be kept in these tanks. They are a temperate water species which live up to a year on average. They require daily feeding and weekly water changes.
To purchase a jellyfish tank and see what is included in the kit, visit http://www.majesticaquariums.com.au/aquariums/other/jellyfish-art-desktop-tank.
To view moon jellyfish in one of these tanks already set up, visit https://www.youtube.com/watch?v=znX_nEbDSUQ.