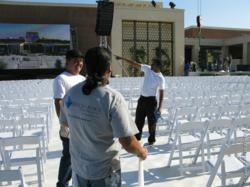 "Classic really understands events from a production aspect and organizes order in a way that makes installations a breeze," says event planner Kelsey Sheofsky.
Hollywood, CA (PRWEB) May 03, 2013
The annual Hilarity for Charity variety show mixed comedy and music in an evening of fundraising for families caring for an Alzheimer's patients and research into a cure. Hollywood's Avalon theater hosted the April 26th gathering of funny performers and talented musical artists, with Classic Party Rentals rolling out the red carpet to welcome them.
Alzheimer's Disease is no laughing matter, but laughter may indeed play a role in the cure. Hilarity for Charity, a foundation created by comic actors Seth Rogen and Lauren Miller, took aim at the brain disease on a star-studded night in Hollywood last Thursday, April 26th at Avalon. The evening was already full of humor and heroic intentions, but Classic Party Rentals was there to make it a glamorous evening as well.
A host of comedians and other funny personalities joined a chart-topping musical act to entertain an audience of generous donors, whose contributions will go to supporting families afflicted by Alzheimer's, assisting national support grounds and funding the ongoing research to stamp out this disease. Rogen, Samuel L. Jackson, Judd Apatow and Jack Black were among those who tickled funny bones on the Avalon stage, and the Backstreet Boys brought down the house to close the evening.
Classic Party Rentals Los Angeles provided the tables, chairs, linens and red carpets for an evening that left the audience in stitches, and took a big step toward making Alzheimer's more manageable for those struggling with the disease and their families.
"Classic really understands events from a production aspect and organizes order in a way that makes installations a breeze," says event planner Kelsey Sheofsky.
"We sent probably 200 revisions over the course of this project, and Classic always made updates within 24 hours," continues Sheofsky. "They were incredibly knowledgeable about the inventory and provided lots of great solutions."
A lively and light-hearted atmosphere ruled the evening, as a who's who of young comedians held up cardboard signs and passed around pizza to add a more casual counterpoint to the beautiful staging and top-notch production.
"There is such an amazing level of support for this cause, and so much work goes into making sure those who attend have the best night ever," says Classic event consultant Trish Stevens. "It truly is a 'FUN-draiser' night."
Classic has provided rentals for both the inaugural and sophomore installments of the Hilarity for Charity evening. The husband and wife team of Rogen and Miller held the first Hilarity for Charity event in January 2012, and plan to make it an annual tradition.
Photos courtesy of Adi Nevo Photographs: http://www.adinevo.com.
ABOUT CLASSIC PARTY RENTALS
Classic Party Rentals is the nation's leading full service event rental company. Classic services most major markets including San Francisco, Los Angeles, Chicago, Dallas, Phoenix, New York, and Pompano Beach. Its high-profile event roster includes more than 180,000 major sporting events, brand promotion tours, Hollywood awards shows, movie premieres, celebrity weddings, charity events and private social events annually. Locally, each Classic Party Rentals location is recognized as an integral part of successful holiday celebrations at home and at work, backyard weddings and birthday parties, school and church functions, local food and wine festivals, and many community service benefits. Classic Party Rentals is also a leading nationwide provider of tents, clear span structures, power, heating, air conditioning and sub-flooring. Ultimately, there is no need to lose sleep over the details. If you can dream it, Classic Party Rentals can deliver it. We do business under a number of different names, and customers are never disappointed by our Blue Diamond service or the strength of our partners will bring to events. For more information, please visit ClassicPartyRentals.com. "Choose Wisely Choose Classic. Feel Secure…No Event too Big or too Small; we do them all."
ABOUT HILARITY FOR CHARITY
After being actively involved in the Alzheimer's community for the past several years, Seth Rogen and Lauren Miller (along with some amazing friends) created Hilarity for Charity: an awesome, one-of-a-kind, and most importantly, hilarious event to raise money and awareness for Alzheimer's among a younger generation. Seth and Lauren recently established the Hilarity for Charity Fund as part of the National Alzheimer's Association, through which monies raised will be directed to help families struggling with Alzheimer's care, increase support groups nationwide, and fund cutting edge research. The first Hilarity for Charity event held in January 2012 treated the audience to an amazing show hosted by Seth Rogen, Paul Rudd, David Krumholtz, and Ty Burrell. Performances by Bruno Mars, Tenacious D, Patton Oswalt, Aziz Ansari, Judd Apatow, Pauly D, and more made the event a huge success. Not only was over $300,000 raised, but Alzheimer's Disease was brought to the forefront of a group who don't normally think about it. And that was just the beginning…Each year, Hilarity for Charity will host an amazing variety show geared towards a younger audience with incredible talent, unique food, and a strong message for an important cause.